I am taking a break from Andrew Geis to share some lovely text from Thomas Gibbs Moses (1856-1934). He was a scenic artist for theatre, opera, world fair exhibits, midway amusement, circus spectacles, fraternal degree productions and other artforms.
"The Brook" written by Thomas Gibbs Moses (1856-1934), August 1932 at the age of 76 yrs. old. Moses was a member of the Salmagundi Club (NY, sponsored by R. M. Shurtleff), Chicago Palette and Chisel Club (Chicago), and the Laguna Beach Art Association (California).
I decided to share as the first paragraph just about brought me to tears this evening. I not only sympathized with his personal situation, but a shift of aesthetic in the art world around him.
Here is the first installment of his writing:
"For the first time in my life I have succeeded in stealing enough time away from my business to do some real honest painting. One reason that I have had time is because there is no business. In digging out some of my old canvases that I did thirty years ago, which were only in the sketch stage, I find plenty of good material to advance the sketch to picture quality. Too bad that I was not able to do that process of advancement out of doors. I certainly lose a lot of real honest technique that out of doors always gave me. I have been quite fortunate in being able to collect a great many pencil sketches that has given me a lot of subjects, so I am not apt to fake any picture. As I have the truth and a story with each sketch. In giving these old and new canvases a final touch I find I have a great variety of sizes and subjects that ought to fit any one's purse and wall space. My painting is of the old school, which to me is what I see in nature, my honest impression, which I have been honest in expressing the same – while some of the young artists just starting in the art world are being convinced that the radical modern idea is one big school to follow. I will cling to the Hudson River School of Painting that made George Innes, R. M. Shurtleff, A. H. Wyant, Robert Minor and many more.
There are too many so-called "Moderns" that know very little of the rudiments of art, faulty in drawing and color, they use the term "Modern" and in some galleries they are welcomed as such, and receive good notice from a few critics. My love for the deep forests led me to the Studio of R. M. Shurtleff in New York, whom I considered a wonderful painter of the woods. I was very happy when he consented to take me on as a pupil. When he suggested my joining the famous Salmagundi Club I was doubtful if I could make it. As the picture I gave the club for my initiation fee was sold to one of the club members, this alone placed me in a good position and had I remained in New York instead of coming to Chicago I feel that I would have forged ahead in the higher art, and would have succeeded. I might not have been so successful financially as I have been in Scenic Painting but am sure that I could have gone to nature each summer and made by studies of a little stream… six or seven feet in width, once not more than ten inches deep in most places, flows down before me through a glade of pines, coming out of a clearing just visible through the dark stems above and going down into another. There is a deep shadow, of the peculiarly lustrous and richly colored kind that only pines can throw. The banks on either side are purple with pine needles. The forest brook provides the best possible education for the eye. There is always more to be seen in it than any one has seen. A man may gaze at a small patch of stream until he thinks he has exhausted every trait of motion shape, and hue, then he looks again and finds that he has just begun to spell out its primer. Not that a brook ever tries to hide anything for is nothing more frank and generous in self-revelation, but its carvings are so many and its nuances of color so fine, its endless dance is so full of what looks like pure whim and caprice, that it daunts and finally eludes the most patient skill of the eye. One who has learned to see a brook can see anything.
A painter of the modern schools would represent the brook as simply as possible, noting down first of all the supple bending of the banks and recording the vivid contrasts of gleam and gloom. But he would actually see far more than this, finding between the extreme of shade and shine a whole gamut of lighting of steely and soft translucence, of colors nameless and numberless reflected from the sky and the boughs of striking upwards from the pebbled bed. One begins to see the brook accurately and so to discover the true beauty of running water only when he learns that it is wonderfully varies, that it is scored with minute and even minuter subdivisions that finally go beyond the power of any eye and one seen by the fancy only, by an imagination half poetical and half scientific.
I'll do another installment some other day. There will be about four total.
His historical context for his text:
Moses' painting career spanned from 1873-1934. He primarily worked for Sosman & Landis, a scenic studio in Chicago. However, he often departed from the business in the early years to strike it out on his own or with a few fellow artists to form a studio. From 1900-1904, he worked in New York on Broadway and for Luna Park at Coney Island.
My personal reason for sharing: I fell in love with this man's writing when I first indexed his typed manuscript and scrapbook for Prof. Emeritus C. Lance Brockman in the early 90s. At that same time, I was fortunate enough to receive a Undergraduate Research Opportunity Program Grant to process the Great Western Stage Equipment Company and the Holak Collection (Sosman & Landis and New York Studios) for the University of Minnesota Libraries Performing Arts Archives – both Masonic design collections that are now available online (with the Twin City Scenic Studio and Northwestern Studio collections).
Studying these small Masonic designs (watercolor and gouache paintings), cleaning, processing, and replicating them (large-scale with dry pigments) forever shaped my future. I traced the career of Moses and his artwork, primarily restoring collections that he supervised or painted a few landscapes. At that point I fell in love with his painting for the stage.
One of the greatest highlights of my career was discovering some of his personal artifacts left high above the stage at the Fort Scott Scottish Rite in November 2015 – they are now at the Minnesota Masonic Heritage Center, along with his scenery collection painted in 1924. This collection not the best example of scenic art; he was aging and ill, but it is innovative and shows a culmination of experience gained throughout the duration of his career. It also provides great artistic provenance for this significant collection. An overall use of brighter colors mirrors the shifting aesthetics in the scenic art trade.
Moses' writing gives a personal touch to his artwork that is displayed some Scottish Rite theaters. Just like all artists that leave memoirs, you have a sense of who they were, what they loved, and how they lived life. He was a romantic, yearning for more time to paint outside of a studio.
Attached are some examples of his fine art and his personal artifacts left onsite in Fort Scott, KS.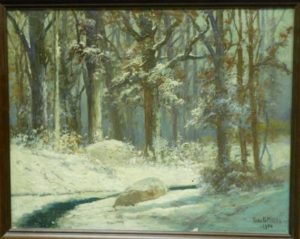 Painting from online source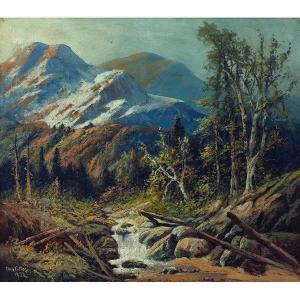 Painting from online source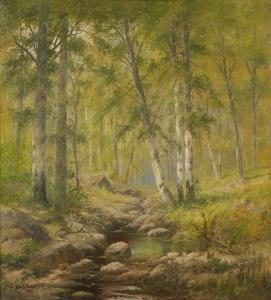 Painting from online source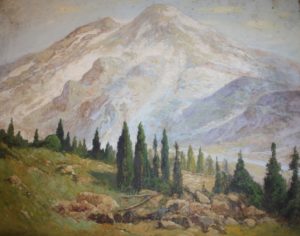 Painting from my collection, 1925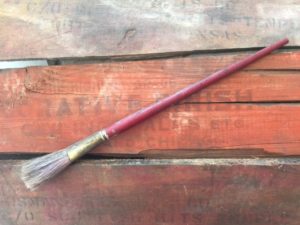 Moses' paint brush from Fort Scott, Kansas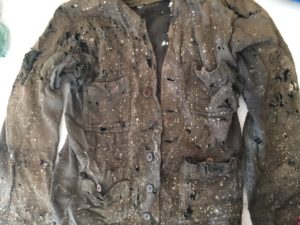 Moses' paint sweater left on site in Fort Scott, Kansas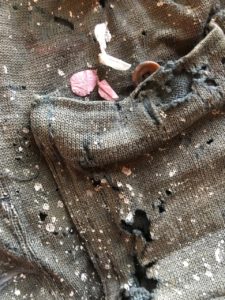 Note the petals found in his pocket!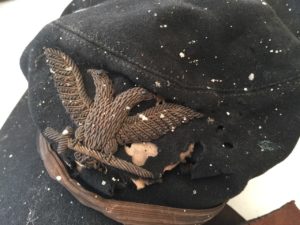 Moses' paint cap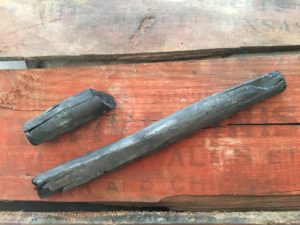 The charcoal used to draw compositions on the stage drops in Fort Scott, Kansas