Fifth and final part written by Thomas Gibbs Moses (1856-1934) in 1932
"In my outdoor sketching in pencil I go much further that the average artist. I get the detail carefully, even is I don't want to use it later. I feel safe in having it before me while it is much pleasanter to work in my studio on finishing a picture where I am free from all annoying insects and cattle. I will always take a chance out of doors. It is hard for me to decide as to the best sketching grounds. They are all good. The coast of Maine especially around Kennebunkport is the most picturesque. Ogunquit is also famous for the sketching of Chas. Woodbury the marine painter from New York City. I have travelled many times to Kingston and Ellenville on the edge of the Catskills where I made some of my most interesting woods, then back to New Hampshire near Woodstock at the base of Mt. Washington, where I struck a virgin forest of wonderful birches. Down in West Virginia along the Buckwater River are picturesque Falls in the Autumn. I found a lot to paint – dark hemlock, dainty birch and beech. Colorful maples and chestnuts supported by grey granite boulders, moss covered, and partly buried with fall leaves, very interesting.
A trip down the French Broad River in North Carolina south of Asheville gave me some very interesting sketches. The illustrator of Picturesque American found a lot to sketch and plenty to write about down this mall interesting river. Back to Chattanooga I found a lot to do that was interesting. Going away back to 1885 when four of us boys found ourselves in camp nine thousand feet above sea level in the Rocky Mtns. Near Breckenridge, and here was our first experience with Mountain climbing and sketching. It was a wonderful trip.
Of late I have enjoyed sketching in and about Oakland, California during our stay there of three winters. The docks were full of good motifs. Mt Shasta and canyons have received my attention several times, as well as Mt. Ranier, which I have made the subject of several big canvases. I was very much disappointed in my trip to Lake Louise and Banff. While the Canadian Rockies are very majestic and plenty of snow and glaciers, they lack the color that the Colorado Rockies have. The best part of the Canadian Rockies is in the part West and South of Lake Louise through which we were sent during the night. A trip from Los Angeles to the Mojave Desert gave me a good idea of desert painting and Mt. Whitney gave me a thrill which I would like to repeat. Several trips to La Jolla gave me what I wanted from the Pacific Ocean. After all is said, I find good sketching everywhere from a quiet scene at Fox Lake, our Old Palette and Chisel Club Camp, to the highest point in the United States, Mt. Whitney.
My stock of old oils sketches range from 6" x8" to 40" x 50" and number fully 600. Water color and tempura another 200. Pencil sketches 400. So I have 1200 sketches to choose from when I want to paint a picture.
The oil show the best possibilities of becoming pictures. The water colors and tempura are more finished and will pass muster.
At this writing there is a Street Fair of Pictures going on near the Art Institute where pictures are traded for all sorts of food and small cash price. I regret that has to be done, as it belittles art, and brings prices for painting to a ridiculously low price. The well known artists of ability do not participate in this. The majority are the Art Students that are studying at the several art schools and are going in for the Modern type of picture.
I have thoroughly enjoyed many years of broken time of sketching and painting and I sincerely hope that some of my pictures will live long after me and be enjoyed by others as they did me in the making of them.
Leaves that idly dance above
Ferns that shiver by the stream
Each recall an olden love
Each recall a summer's dream."
The End.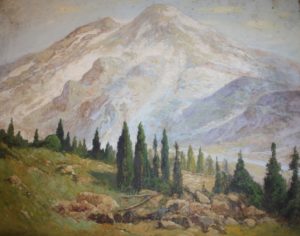 Mt. Ranier in 1925, Waszut-Barrett Collection