For today's post, I started with an article that I stumbled across years ago. It reminded me of an old Ebay purchase. This print has travelled with me, always being on hand to frame at some point. For me, it as it captured the essence of the 1870s scenic artist working high about the stage on a paint bridge.
Amazingly, the man that created this 1878 illustration, was one of Thomas Moses' earliest inspirations when he encountered the field of scenic art. This happened in 1874 while he was working for Jevne & Almini – fresco decorators – at the age of 18 yrs. old on a project at Hooley's Opera House.
I did some research, connected a few dots, and voila!
The Sunday Telegraph, New York, September 28, 1902, "The Scene Painter is No Ghost"
"How man theatregoers can give the names of three scene painters in New York? Playhouse patrons admire their art, and even applaud it on opening night, but they know nothing about it, and it is a most unusual occasion when the artist is called before the curtain. He is not discussed at clubs or in the drawing rooms. The cheapest show girl in a Broadway burlesque, with just about brains enough to remember he name over night, gets her picture in the magazines several times in the course of a season and is written about as if she really was of some importance.
Up on the paint bridge, seventy feet above her head, is the scene painter. He is putting the finishing touches to a drop that has taken him many days to paint and more years of hard study to learn how. The press agent never worries him for his photograph, the dramatic reporters couldn't find him if they went back on stage. The show is over, the lights are put out and a deathly stillness settles upon the theatre. The watchman lazily makes his rounds and finds the scenic artist and his assistants at work finishing a drop or a border or priming new ones. When the artist leaves the theatre the streets are still. He reaches home and over his pipe wonders if the game is worth the candle."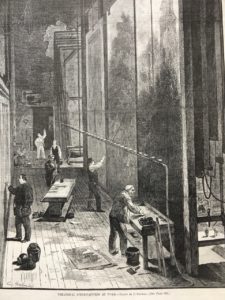 And here is the artist for the illustration:
Charles S. Graham (1852-1911) was born in Rock Island, Illinois. He became a topographer in 1873 for Northern Pacific Railroad. Completing surveys of Montana and Idaho, this position trained him as a skilled draftsman and artist. From 1874 to 1877 he painted theatrical scenery in Chicago and New York. Between 1879 and 1891, he exhibited watercolors with the American Watercolor Society, and two years later was named an official artist for the 1893's Chicago World's Columbian Exposition.
Between 1883 and 1896 he was a member of the Bohemian Club and San Francisco Art Association, producing many scenes of Colorado, the Dakotas, and New Mexico for the Northern Pacific Railroad. He was an avid traveler and visited New Orleans in 1884, returning and making an extensive tour of the south with Horace Bradley. These two artists' trop resulted in a series of illustrations for Harper's Weekly. After 1900, Graham painted mainly in oils, but is primarily remembered as an illustrator.
Graham started as the staff artist at Harper's Weekly in 1878 and remained there until 1892, leaving to travel and continue as a freelance artist. Although still contributing to Harper's, other companies that he worked for included the New York Herald, the Chicago Tribune, the American Lithograph Company and Collier's. While working in New York, Graham passed away at the age of 59 yrs. old.
Thomas Moses recalls Graham's work at Hooleys theatre in Chicago during in 1874. In his typed manuscript, he wrote," In June I was sent to Hooleys Theatre to work. On the scenery was employed J. Francis Murphy and Chas. Graham. I was put in charge of the proscenium boxes, mostly gilding. I could see the work being done on the paint frame. I was more convinced that scenery was what I wanted to do; more opportunity to do landscapes."
Hooley's Opera House, the Parlor of Home Comedy, was dedicated on 21 October 1872, later to be known as Hooley's Theater, a title destined to stand for almost twenty-five years. Mr. Hooley and his stock company first appeared on Monday evening, 31 August 1874. The theater's address was 124 West Randolph Street, occupying a street frontage on Randolph of only 23 feet. The theater had a seating capacity of 1,500, although some sources say that it felt cramped with this many people. The stage was 50 feet wide and 65 feet deep with rear door that was 180 feet from the entrance of the building. It's exterior was constructed of cut stone and iron and it measured four stories high.
Furthermore, there were lodge rooms on the upper floors.
Every small and crooked path leads to another wonderful discovery this month!