Part 93: Surprise, Surprise
On my return trip from USITT, I stopped to complete one more scenery evaluation at the Scottish Rite in Moline, Illinois. Earlier that spring, I discovered that the Moline Scottish Rite building was for sale. Located at 1800 7th Avenue, it was listed for 1.2 million dollars. The Scottish Rite Cathedral in Moline was constructed in 1929 and dedicated in 1930. As with many Masonic buildings from this era, the space rented to a variety of fraternal tenants. There were four floors that included a Lodge Room, commercial kitchen, banquet room, several meeting rooms, and a 500-seat auditorium. 
Here is a link from a March 8, 2017 online article about the listing: http://qctimes.com/business/scottish-rite-cathedral-put-up-for-sale-in-moline/article_0aefda2f-3a61-5db0-af28-89eaa61cafce.html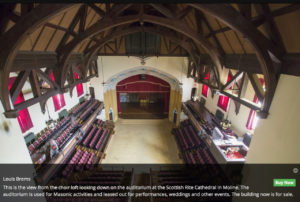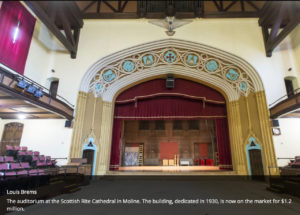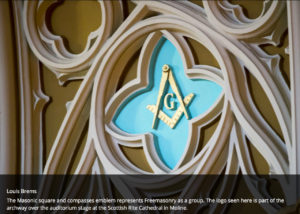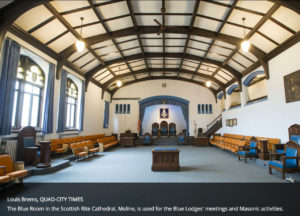 Knowing how quickly a scenery collection can change hands and disappear forever, this became a destination location for me on my return trip. The Scottish Rite Valley seemed lukewarm about my visit and the executive secretary immediately transferred me to the building maintenance man – never a good sign. This type of disinterest suggested that the future of the scenery would be perilous at best. As with Fort Smith, Arkansas, in 2010, the scenery collection becomes the least of a Scottish Rite's worries during an impending sale. As the administrative staff becomes overwhelmed with the liquidation of many artifacts and the possible transfer of certain items to a new facility, the drops are placed at the bottom of the list. When I was passed off to a general maintenance man who was simply being provided to lower scenery for an inquisitive girl, I organized my plan of attack and thought about finding an extra set of eyes during the quick evaluation.
As was the case for many Scottish Rite Valleys, the gentleman responsible for cleaning and repair of the building juggled his schedule with another part-time job, one that was often another cleaning job. Luckily for me, the Moline gentleman and I had a lovely chat over the phone and he sensed my excitement about their collection. Unfortunately, he could only allow me to look at scenery for three hours in the morning on Monday, March 13, 2017. I decided to post my plans on Facebook and see if anyone might want to tag along for an extra day either before or after the conference.
Luckily,
Paul Sannerud
was able to join me on this excursion and would be my extra set of eyes on stage during the evaluation. The greatest difficultly would be catching all of the flaws and identification markings in a rushed situation. That is what had happened at Fort Scott as I would literally run from my tripod in the auditorium to the stage area with a handheld camera. This would be my final project before I returned home to a relatively quiet spring. I needed a break to focus on my family, home, and yard. Moreover, I needed time to process all of my discoveries from the Mt. Pleasant Theatre Museum and Scottish Rite scenery collections. For the past two years, spring had been bustling with activity causing me to postpone many home-related tasks, both at our new home in Crystal and our previous home in Cambridge.
My plan was to depart St. Louis before noon on Sunday, March 12 and arrive in Moline by that evening. The next morning, I would arrive at the temple by 9AM, work three hours, and depart by noon. As the entire trip was self-funded, I was grateful to not spend another night in a hotel room.
I had no idea what to expect at the Moline Scottish Rite, having seen only a few glimpses of the collection in an online image search. All I knew was that the scenes were not produced by Sosman & Landis as they were the wrong style. I suspected that either Volland Studio or Becker Bros. Studio, or a combination thereof, produced the collection.
On Sunday morning,
Rick Boychuk 
and I left our apartment early to pick up his car so that he could drop a friend off at the airport. We had both driven to St. Louis, and I had scored the garage space as I was driving to and from the Scottish Rite that week. After picking up Paul from the convention hotel, I returned to the apartment to finish packing up the remainder of my belongings.
I left reading material with Paul as I finished checking out of the apartment; my little teal carrying case for hanging files on Northern Masonic Jurisdiction Scottish Rite installations. I had carefully tucked away documents passed along from my friend in Chicago years ago. The contents included paperwork pertaining to a variety of Scottish Rite scenery installations. I had only ever had the chance to quickly skim the contents and mainly brought along the files to share with Rick. I envisioned relaxing every evening after conference activities, sipping Scotch, and discussing the evolution of stage rigging for Scottish Rite stages. The week was over and we had hardly peaked at the files. Oh well, I thought, as I handed them over to Paul in the lobby, maybe there is time now.
After loading up my car, I sat next to Paul while waiting for Rick to return. Paul noticed that the folders actually included a file about the Moline Scottish Rite. I was absolutely stunned! This was the same installation that we were going to see!