Part 129: Isn't It Lovely
The artistic seeds from the Düsseldorf School found fertile ground in the magical landscapes of the Hudson River Valley movement. Artworks associated with American Romanticism also appeared on the stage as theatrical settings. For Freemasonry, foreign lands rife with mythology and mysticism were perfect compositions to accompany their newly formed degree productions during the latter part of the nineteenth century. Exotic compositions romantically rendered by scenic artists for the stage must have been breathtaking for both fraternal and commercial audiences. Unlike fine art pieces, their theatrical imitations could be backlit. Radiant sunsets and spectacular thunderstorms would bring the compositions to life. Throw in a few performers and – voila – the audience was transported to another world!
It was the works of Thomas Cole, Albert Bierstadt, John Frederick Kensett, David Johnson, William Stanley Haseltine, Sanford Robinson Gillford, Jasper Francis Cropsey, Jervis McEntee, Thomas Moran, Samuel Coleman, Worthington Whittredge and many other American artists who greatly influenced the aesthetic for popular entertainment. Foreign scenes rendered with this romantic aesthetic were especially well received on the fraternal stage. One second-generation Hudson River School artist, Frederick Edwin Church (1826-1900) sought new subject matter and traveled to Nova Scotia, Ecuador, Mexico, Europe, North Africa, the Near East and Greece. His works were especially significant in the development of degree productions. Church's compositions, like those of his instructor Thomas Cole, were a source of opulent light and life in foreign composition that gave many degrees a theatrical soul.
Sailing to Greece in 1869, Church captured images of the Parthenon, a structure that he called "the culmination of the genius of man in architecture."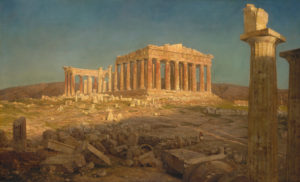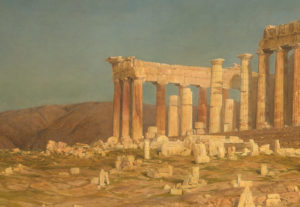 In looking at his work, I was reminded of a Scottish Rite setting for the fifteenth degree that depicted the Ruins of the Temple. Church's renditions of the Parthenon and other ancient structures glowed under the radiant embers of sunset. His artworks may have been inspirational for many scenic artists who painted Scottish Rite drops, such as those created at Sosman & Landis studio.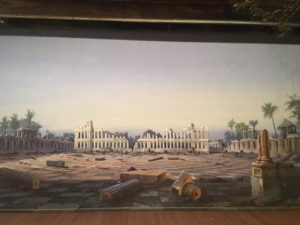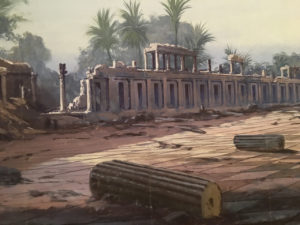 Scenic artists frequently transferred the work of others to the stage, a practice that has continued in our industry. Compositions from David Roberts' (1796-1864) early nineteenth-century travels to the Holy Land appeared on both commercial and fraternal stages across the country.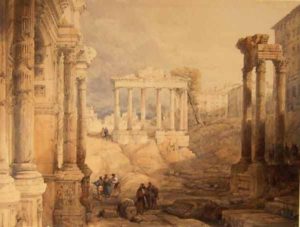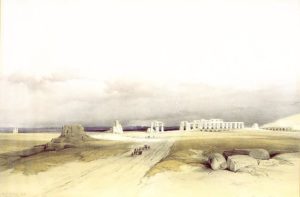 I have often documented images of landscapes, temples and other Egyptian ruins by Roberts that were repurposed for Scottish Rite degree work. However, it was the addition of the Düsseldorf and Hudson River School stylistic approach that brought his settings to life on the stage.
I keep returning to some of the same Scottish Rite scenery collections where I believe that Strong's work remains visible. The "returning" is like looking for my car keys and knowing that I set them on a table, even though I have not laid eyes on them yet. You can see the stylistic rendition of one particular artist, but just need to figure out which one. Like the seascape, I believe the temple ruins settings were primarily painted by Strong. It was the painting of rocky outcrops and turbulent seas that made me recall 3rd degree production settings. It was the lighting and placement of the crumbling columns that made me think of pairing Church's paintings with Strong's technique.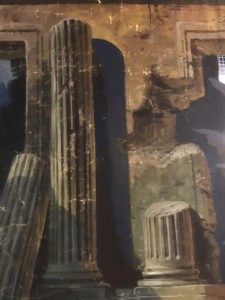 This is similar to looking at someone's handwriting and trying to identify their unique "S," "I," "E" or "Y." If it all looks like chicken scratch, then you start looking for specific words to decipher, before letters. For the stage, you identify the movement, then the artist, and finally the composition. There are stoplights all along the way, clearly visible from a distance if you just step back. You just have to observant and see them approaching before you run the red light.
Strong painted some of the earliest fraternal scenery for Sosman & Landis when they were first producing Southern Jurisdiction installations. He was given most of the Masonic projects because he was a Mason. We know this from Moses' typed manuscript, as he worked in the same studio with Strong when the projects were assigned to the artists. Strong had been a Freemason since 1852 and Chicago Scottish Rite Mason since 1876. By 1900, Strong was an old hand at both ritual and degree settings.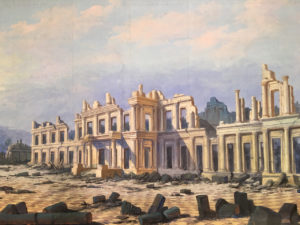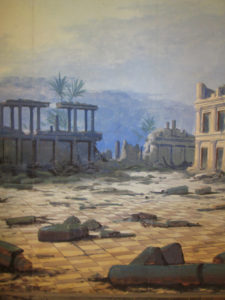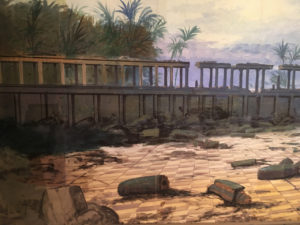 Although the original theaters where his drops first hung are long gone, many of the painted drops are still in use. They were resold to other Valleys and still hang above these stages. Original scenery collections for Guthrie, South McAlester, and Little Rock currently reside in their second homes at Austin, Yankton, and Pasadena. These are just three examples of dozens that have served double duty during their lifetime, many of which are still available to examine and document.
To be continued…