Part 162: Frank Deming Moses
Thomas G. Moses wrote about the separation of his family after his mother's death. His sisters, Lucia and Illie, were sent back to the East with Aunt Annie while he and Frank remained with their father in Sterling, Illinois. He wrote that they were left to "the tender mercy of servants, who allowed us to run wild with the horses and other wild things, as Father had no time to give for us."
The brothers were only two years apart in age and spent countless hours getting into mischief. Moses wrote, "If a vacant house was assaulted and all the glass broken, or an orchard or vineyard disturbed, either in the moonlight or daylight, the good people would exclaim, "It must have been those Moses' boys." He recalled that they were never vicious, only mischievous.
To stay out of trouble, the boys caught fish in a local river, selling them to the residents of Sterling for a little spending money. Unfortunately, this did not sit well with their father as he considered it a disgrace to the family name – "a Moses did not sell fish on a street corner." However, with all the money they earned from selling fish, Frank was able to buy books.
The boys soon left their fishing partnership and sought employment opportunities elsewhere. Frank did a little work at the new gas works while Moses worked at their father's tannery and harness shop. Both were obligated to give all of their hard-earned wages to their father. This never sat well with Thomas as he had aspirations to begin a painting career in Chicago. He would need funds for travel and lodging to seek employment there. Moses eventually left for the big city, with Frank remaining his only link to family and the Sterling area.
As adults, each brother travelled extensively for his respective career. Frank made a name for himself designing, installing, and supervising the new gas plants that were appearing all across the country. He was extremely well known and respected in the gas industry.
Around the same time that Thomas began his artistic career at the interior decorating firm of the P.M. Almini Co. in Chicago, Frank began his career as a lamp lighter for the Sterling gas company.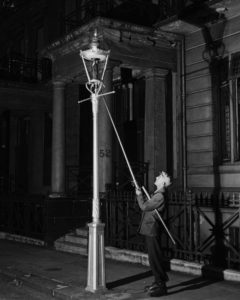 In 1879 Frank journeyed to Indianapolis as a "gas maker," soon becoming the project foreman for the area. From 1882-1889 he worked in engineering and construction at Kerr-Murray Manufacturing Co. in Fort Wayne, Indiana. Between 1889 and 1898 Frank travelled with the Mutual Fuel Gas Co. of Chicago and was stationed in various cities, including St. Joseph, MO, Zanesville, OH, and Bellevue, KY. By 1898 he moved to Trenton, NJ, and took charge of the new gas plant. The company was later absorbed into the South Jersey Gas Electric and Traction Company, but Frank became chief engineer and remained with the company until 1902. The following year he went into business for himself, building gas works and later incorporating the Gas Engineering Company. Frank was one of the pioneers who introduced gas ranges in this country.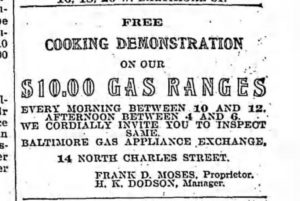 He had large contracts for selling and installing ranges and appliance in many eastern cities that included Trenton, NJ, Camden, NJ, Baltimore, MD, Troy, and Albany, NY. At the end of his life, Frank D. Moses was president of the Gas Engineering Co. of Trenton, New Jersey and applied for a patent on a gas apparatus. He passed away on November 7, 1927, after spending 52 years in the gas business.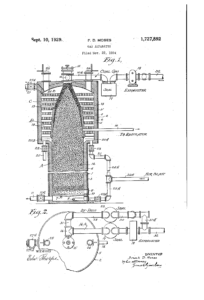 The American Gas Association Monthly noted Frank Moses' contribution to the gas industry when he passed away, listing him as one of the gas industry's "old guard." Thomas' son, Pitt, followed the career of his uncle and worked with him at the gas plant in Jew Jersey. Moses recorded in his diary that he had been unaware of any health concerns with his brother. It was a time when personal illnesses were not always openly shared with family members.
To be continued…