Part 215: Thomas G. Moses and David A. Strong
In 1886, Sosman and Landis completed the construction of their scenic studio on Clinton Street in Chicago, Illinois. By this time, Moses had been working at Sosman & Landis for six years. The company knew what he was capable of and who were the best scenic artists to use on specialty projects. Moses' typed manuscript records that he and David A. Strong started on a panorama of Grant's trip around the world that year. Moses wrote, "We were alone in the big studio for some time before the whole force came over. We enjoyed painting the panorama as it was continuous. There was some careful blending to be done." The remainder of the Sosman & Landis crew was still finishing projects in the old studio space.
Little is known about this panorama, but it was likely a moving panorama that documented General Grant's worldwide tour. After leaving the office of the presidency in 1877, Ulysses S. Grant embarked on a journey around the world, visiting Europe, the Middle East and Asia over two and one-half years. The trip was first published in 1879 as "General Grant's Tour Around the World: With a Sketch of His Life." It provided an abundance of opportunities to paint visions of foreign lands and exotic scenery for American audiences. Sadly, nothing is known of the completed composition or where it toured across the country.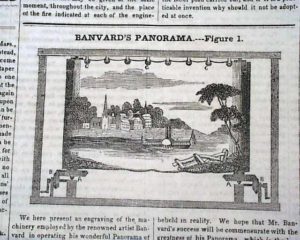 What is of interest to me, however, is Moses' mention that he and Strong were the painting team for this project and the primary crew at the new Sosman & Landis studio before the arrival of the remaining crew. Strong was fifty-six years old and Moses was thirty years old in 1886. This was a perfect pairing of aged experience and youthful enthusiasm. We know that Moses was very fast and Strong was known for his production of visual spectacle. Working with Strong in any capacity must have been an asset in Moses' career and training.
By this time, Moses had already made a name for himself and was well-respected as a scenic artist in many areas of the country. Working with Strong would have been the icing on the cake. They would have painted side-by-side, chatted about past projects, and anticipated each other's approach to painting a large composition. It takes a very short time to recognize the skill and speed of a fellow artist when painting a backdrop together. A panorama would have provided ample opportunity for Moses to study Strong's approach to scenic art and mirror it so the composition would have an overall unity. Strong would have set the tone of the entire piece, being the more experienced artist.
Let's recall the significance of Strong (1830-1911) to appreciate this pairing. Strong was born in Connecticut where he became known as a decorative painter and scenic artist at an early age. By the age of thirty-four, he was working professionally at theatres in Washington, D.C. and New York, primarily staying on the East Coast. There, his contemporaries were Layfeyette W. Seavy, Richard Marston, Robert Smith, William Wallack and E. Hayes. At the age of forty-four, he moved to Chicago and painted for Crosby's Opera House, Haverly's Theatre, and McVicker's Theatre. Strong was also a well-known stage machinist who specialized in burlesque pantomime, such as "The Black Crook" and "The White Fawn." Well skilled in the creation of painted panoramas, he also was known for painting the 1871 "Panorama of Ireland." Strong was affectionately referred to as "Old Trusty" by his fellow scenic artists and well-respected for his "facile brush," and "the quality of opaqueness" in his painting, characteristic of the Dusseldorf School." Moses wrote, "His color was deep and rich and his drawings very correct."
Strong was not simply a scenic artist. As previously noted, he was also a member of the Theatrical Mechanics Association. Strong, Henry C. Tryon and Charles S. King would have been a powerful triumvirate of theatrical engineering at Sosman & Landis during this time, allowing the company to soar to the top of their industry. The construction of a new studio space was proof of their success.
By 1886, Sosman & Landis studio had contracted enough new business to justify the construction of a premiere studio space on Clinton Street. This would be their main studio until the 1920s when Chicago Studios would rent the facility. We also know that by this time, Henry C. Tryon, John H. Young, Hardesty Maratta, Ed Morange and Charles S. King were all part of the studio's work force. I wish that I could have been there to see all of that talent under one roof.
To be continued…