Part 221: California Dreaming
On April 6, 1889, the Oakland Tribune reported, "Thomas Moses is in Auburn" (page 7). He was there to stay for a while and Ella was pregnant with their fourth child.
During his time in California, Moses made some models and did $1000.00 worth of painting for the State Fair Show in Sacramento. He and Loitz worked on this extra project while finishing the scenery for Booth and Barrett. This would have been while painting the New California Theatre. On completing the Sacramento job, Mr. Tubin (the head man) gave Moses $50.00 and Loitz $10.00 for their earnest endeavors to make this show the best on the grounds. It was a Mother Goose Fairy Tale for the children and was presented under a big tent.
Extra work for Moses included painting the scenery for a production of "Hamlet" while at the New California. It was so well received that they wanted Moses to accompany them back East and repeat it in Chicago. However, he had too much work on his hands already and remained at the New California Theatre to complete their contract with Booth & Barrett. Joe Murphy was another client who played at the New California and hired Moses to paint some additional pieces for his show. Moses' painted scenery was getting a lot of attention and his skills as a scenic artist were in high demand.   Moses wrote, "Mr. Hayman wanted me to sign a contract and remain at the theatre for $75.00 per week. I couldn't do it."
This would have been a wonderful compliment to Moses, but it also posed a threat to the Sosman & Landis studio. Moses had already left for greener pastures already. It was just a matter of time before he realized that he could make a much better living working by himself instead of remaining on salary with the studio.
Work was plentiful and Moses' small family was growing. They celebrated the birth of Rupert on July 24 and they were making a lot of friends in the area. Sosman & Landis must have sensed that Moses might never return and soon called him back to Chicago for another painting project. There was a drop curtain to paint for Evansville, Indiana. Moses insisted on painting it in California and simply shipping it back to the studio. He recalled the difficulty in shipping back the drop to Chicago before it was sent on to Evansville. By September, he was sent on the road for another project, effectively giving up his hope to remain in Los Angeles. That fall, he sent his family back to Chicago. He wrote, "Ella and the four children started for home September 23 – some job for her. But she got along nicely as the passengers were awfully good to her and Pitt was a great deal of help."
After his family left, Moses and Loitz headed to Tacoma, Washington to paint scenery for the new opera house. It was an opportunity to not only paint scenery, but also sketch the picturesque landscape surrounding the bustling town. Moses wrote, "My first view of Mt. Shasta I shall never forget. It was sunset and all the foreground and middle distance was in shadow.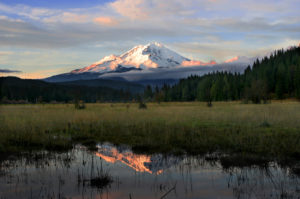 Made a rapid pencil sketch and have since painted it in watercolor and oil, with some success." From the beginning of the train ride it was an adventure for the two. During the trip, Moses was sketching the mountains from the steps of the sleeper, when the double-head locomotive broke away from the train and continued rapidly ahead without the cars. They immediately pulled the brakes, forcing the loose cars to stop. Both Moses and Loitz recognized the dangerous situation and leapt from the train. Had the eleven cars started down the oncoming steep grade, they would have run out of control. They were stranded for a bit while waiting for the engine to return and pick up the cars.
To be continued…