Part 222: Thomas G. Moses and the Tacoma Theatre
On arriving in Tacoma, Washington, Thomas G. Moses and Ed Loitz checked into the Fife Hotel.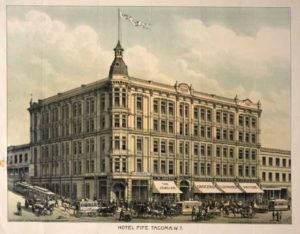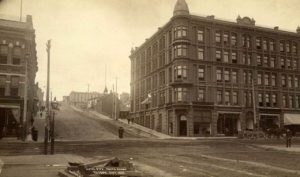 The Fife Block was finished in 1888 and was considered to be one of the largest multi-storied structures in Tacoma. It lasted until 1925 when it was demolished to build a parking lot for the new Winthop Hotel.  Moses and Loitz's lodging accommodations were only located only two blocks from the theatre and an easy walk in this bustling area. The Tacoma Theater would become one of the city's main downtown attractions after opening in the spring of 1890.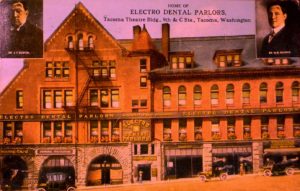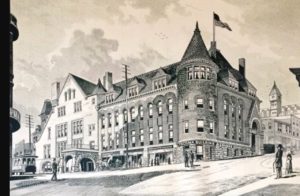 The Tacoma Opera House Company commissioned a group of architects to design an office and theatre block in downtown Tacoma. At this time, Tacoma was experiencing a building boom. It began shortly after the Northern Pacific Railroad first reached Tacoma in 1883. Chicago theatre architect James M. Wood (see my previous installment #214 ) designed the Tacoma Theatre. Wood was a native of New York City, born in 1841. Early in his career, he moved to Chicago and eventually opened an architectural firm for himself. He completed many designs for theaters, opera houses and concert halls throughout the United States. In Tacoma, Wood was assisted by local architect August F. Heide (1862-1943). The architect who had a hand in the theatre design was John Galen Howard (1864-1931). Galen had previously worked in Los Angeles (1887-1888) and would later return to the East Coast after Tacoma. Howard also worked with Sydney Lowell, who completed the larger building's interior design. Others involved in this portion of the project were Moore and Clark, (building contractors), Spierling & Linden (interior decorators), Thomas Moses (scenic artist), Charles H. Smith (stage carpenter) and the Peterman Manufacturing Company (manufacturer of the carved woodwork).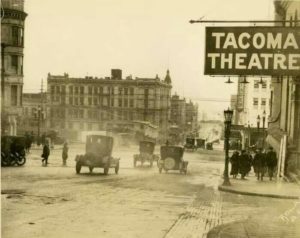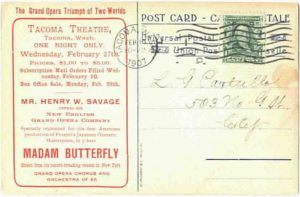 The Tacoma Opera House was also called the Tacoma Theatre. Vintage photographs have captured images of the "Tacoma Theatre" sign. The building overlooked Commencement Bay and its tide flats to Mt. Tacoma (called Mt. Rainier by out-of-town visitors) Two months after opening, a fire occurred on March 7, 1890. Over the years, its name changed as the theatre underwent a series of renovations: the "Malan-Magrath Theater" in 1905, the "Orpheum" in 1918, the "Broadway" from 1927-1933, and the Music Box Theatre after 1933.. Performers at the Tacoma Theatre included Sarah Bernhardt (1891 and 1918), Mark Twain (1895), Alla Nazimova (1910), Al Jolson (1915) and Harry Houdini (1924). Much of the above information was located at: http://pcad.lib.washington.edu/building/4751/ Sadly, the Tacoma Theatre was destroyed by fire on April 30, 1963.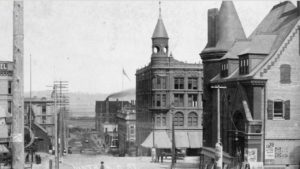 While Moses and Loitz were working on the scenery, visitors would stop buy and watch the two paint. Moses wrote, "The drizzling weather that followed for some weeks made me feel blue and homesick. We finally got started and was over-run with visitors." One of the many locals that went to watch the progress was Mr. Blackwell, President of the Tacoma National Bank and also President of the Opera House Company. Moses recorded that Mr. Blackwell liked his woodland scene so much that he received a commission for a landscape. Blackwell offered Moses $200.00 to paint a watercolor like it.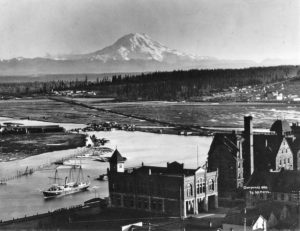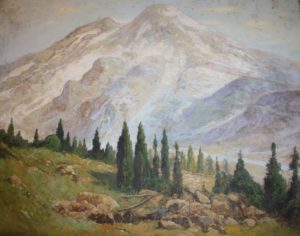 I own a Moses oil painting of Mount Rainier from 1926. This is just one example that Moses would return many times to this area for both theatre work and sketching trips.
To be continued…