Part 214: Thomas G. Moses at Wood's Theatre in Bay City Michigan
In 1886, Thomas G. Moses promised to remain another year at Sosman & Landis. This regular line of studio work involved travel and it kept him busy all year.  His typed manuscript notes that he completed two "short trips" to paint scenery in Bay City, Michigan and Toronto, Canada. Putting on my detective hat, I started to search for possible venues. In a relatively short time, I was able to determine that Moses had likely been sent to outfit the newly constructed Wood's Opera House. Here is what I uncovered about Bay City:
Most of Bay City's early theaters were housed in multi-purpose facilities. For example, Sidney Campbell's "Globe House" was initially built as a hotel. By 1865, the "Globe House" was purchased by A.N. Rouech who added a performance space on the building's upper level. Various records indicate that this was considered the community's first permanent theater. Similarly, James Fraser's "Fraser House" also included a multipurpose room that functioned as both a ballroom and a theater on its upper level. Without any form of permanent seating, each space was more like a performance hall (or Masonic hall) with a stage located at the end of a long rectangular room.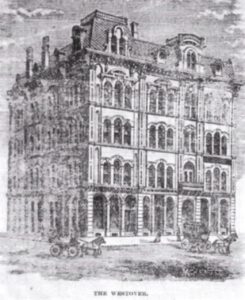 The 1869 Westover Opera House was constructed and considered to be the first standard theater facility for Bay City residents with fixed seating. Unfortunately, fire destroyed the opera house in January of 1886. This building had been located on William Westover's business block, utilizing the third and fourth floors. At that time, it was reported as being the finest theater facilities north of Detroit. I always read between the lines of "finest theatre" as it often appeared to be a marketing ploy.
In 1885, Westover planned to renovate the opera house as it was considered unsafe and badly in need of repairs.  He hired J.M. Wood to oversee the renovation project as he had initially designed the structure when the Westover block was built. Westover's manager, John Buckley, even made arrangements with the "Washington Avenue Rink" to temporarily construct a performance space for productions during the renovation. However, the attendance at the temporary location was poor and the remodeling of the facility did not start right away.
In the "Bay City Tribune" the future performance space was described as being a "three story building in front, with stores and offices on each side of the main entrance and a large hall or assembly room on the third floor." The opera house would have a large gallery, a fire wall, and an iron drop curtain between the stage and auditorium. The space would seat 1,200 individuals under a 48'-0" high dome. The article went on to describe the design in detail. The stage would be larger than that at the Academy of Music and thoroughly equipped with scenery and stage machinery. The building would include "more artistic effects than can be found in any opera house in the state."
Westover decided to approach the city for financial assistance to help defray the high costs involved, requesting that the city donate $15,000. The city wasn't that interested donating funds to a private endeavor, but did organize a committee to raise funds from the community for this purpose.
Amazingly, fate intervened and on January 17, 1886, the building caught on fire. In a very short time the entire block containing the opera house was considered a total loss. Sadly, only a small fraction of the damage was covered by insurance and any future theatre seemed impossible.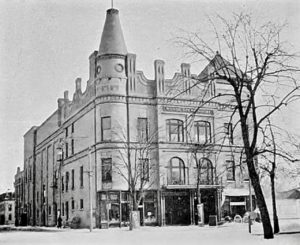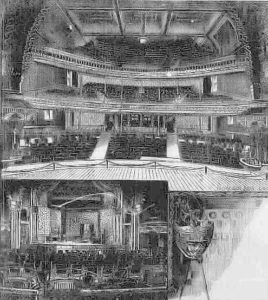 Regardless of the dire circumstances, a new Woods Opera House (1886-1902) replaced it that same year. It was considered Bay City's first building solely devoted to theatre, positioned on the corner of Washington Ave. and Sixth Street. The first attraction at the newly constructed theatre appeared the first week of September. Inside the building, three levels comprised the performance space that included a main floor, balcony and gallery. There were three drop curtains and enough back drops that could create up to thirty different scene changes. This was the scenery collection that Moses had traveled to Bay City to paint on site.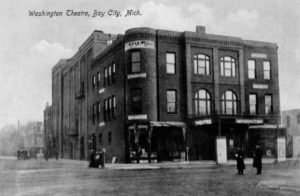 Sadly, Woods Opera House would only live for sixteen years. Like it's predecessor, it was destroyed by fire on August 29, 1902. "The Tide of Life" would be the opera house's last performance as a fire would destroy the theater that evening. The financial lost was estimated at $113,000. Again, there was no hesitation to construct a new theater on the same site and the Washington Theatre opened the following year.
Historical note about J. M. Wood. Wood was a native of New York City, born in 1841. Early in his career, he moved to Chicago and started working as an architect. He eventually opened an office for himself and completed many designs for theaters, opera houses and concert halls throughout the United States. Projects include the New California Theater (Los Angeles), the Grand Opera House (Portland), the Tacoma Theater (Tacoma, Washington), New Broadway Theater (Minneapolis), Blake Opera House (Racine, WI), the Grand Opera House (Warsaw, WI), Rockford Opera House and Grand Opera House (Danville, IL), Academy of Music (East Saginaw),  Academy of Music (Kalamazoo, MI), Redmond's Opera House (Grand Rapids, MI), Academy of Music (Toronto, Ontario, Canada), Academies of Music in Franklin, Oil City and Altoona (Pennsylvania), Academy of Music (Cedar Rapids, IA), and many others too numerous to mention. Wood was noted as "an enthusiast in this branch of his profession, and has devoted a great deal of time and study to the comfort, convenience, acoustic qualities and effect in the design and arrangements of opera houses, theaters and concert halls" ("The Bay of San Francisco," Volume 1, 1892).
To be continued…
Much of the above information was posted online at the Bay-Journal. Here is the link: http://bay-journal.com/bay/1he/theater/woodsopera.html#thumb