While Wendy Waszut-Barrett is recovering from travel and catching up on current projects. She is reposting a few early installments from "Tales from a Scenic Artist and Scholar Acquiring: The Fort Scott Scenery for the Minnesota Masonic Heritage Center." Here is her eighteenth post from March 3, 2017.

Part 18: A Prime Discovery
The 1931 typed manuscript of Thomas G. Moses (1856-1934) provides an abundance of information concerning his design process and the creation of the painted scenery. Moses first mentions working with the Valley of Fort Scott in 1923, noting that he felt they "were in line for the contract." His story continues with his return during May 1924, writing, "I made a colored sketch for the decorations and then gave another showing of my scenes and closed the contract."
By August of 1924 Moses finalized the onsite details, met with his carpenter and put in a full days work before continuing on his way to Colorado, Utah, California and Washington. In October he returned again for only a few days. He immediately departed with the intention of returning in two weeks to commence the painting, but poor health and unexpected work intervened. At this time Moses was battling a chronic cough and was beginning to have some severe health issues. He was 68 years old, overworked, constantly traveling, and taking little time to rest and recuperate.
Finally, on October 23, Moses left for Fort Scott and immediately started painting upon his arrival. He stayed until November 25, recording," Fulton and I dug in to the work, and it was some hustle to get through, which we did on the 17th of November. At the finish I got a payment of $7,000, the balance to be paid within a month. Our extras brought the contract up to $22,000.00." Moses did not return again to Fort Scott until August of 1925.
While we were onsite, I was able to identify where Moses had painted the majority of the scenery – 20' above the stage floor on the stage-left side. His onsite studio in 1924 was accessible by a narrow ladder that climbed up the back wall of the theatre – on the stage left side.
A few days before our departure, one of the riggers was contemplating the removal of a converted sewing machine as a souvenir. It had been used to track the moon light box across a night sky in the Twenty-first degree. It was located on a ledge high above the stage floor. As he examined the machine, we asked him to look around and see if there was anything else of on the nearby platform.
"Just an old wooden barrel," he responded. My heart started to race and I immediately asked if he could identify the contents.
"I can't tell as it's still sealed. But there is a pile of white stuff next to it and the same type of powder leaking out of the seams."
"Oh my God," I thought and my heart leapt. He found a barrel of whiting!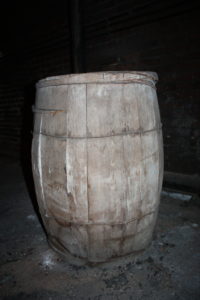 Now this might not sound exciting to many people – an old wooden barrel leaking white powder twenty feet above the stage.
What many people don't know is that whiting was the product used by scenic artists to prime painted backdrops. The chances that this was an original barrel purchased by Moses and abandoned onsite after completing the job was very likely. Whiting was cheap and too heavy to justify shipping it back to the Chicago studio.
The traditional formula for drop primer was mixing strong size (diluted hide glue) with a fine powder that primarily consisted of silica, zinc, lead, or a mixture of thereof. The powder was soaked in a galvanized tub of water overnight, making sure that it was thoroughly dissolved and free from lumps. Then it was then "slaked" before using; this process separated out the gritty substance from the chalk. The chalk was scooped out and mixed with strong size. The primer was evenly worked into the fabric of the drop, thus providing a clean and uniform base on which to draw the design.
If an entire unopened barrel of whiting was up there, what other treasures could be hidden away under a layer of filth? Would I be able to verify that Moses used this space as a temporary onsite studio? We headed toward the ladder to check out this exciting new discovery.
To be continued…