Part 259: Thomas G. Moses and the Columbian Exposition, 1893
Thomas G. Moses and Ella found a number of good prospects while house hunting in 1893. They eventually selected one particular house in Oak Park, Illinois, that was relatively new – only a year old. Moses wrote that their new home had "very fine wood-work, a large stable, driveway, and a 60 x 178 foot lot." They bought the house for $8,575.00, today's equivalent of $222,238.22. Although the amount was much more than the couple wanted to pay, Moses wrote that it appealed to them as no other one had. He had a perfect spot for a home studio with plenty of light.
The couple moved into their new house on May 1, 1893 – the same day that the Columbian Exposition opened in Chicago. Moses noted that their new home now provided plenty of room to entertain World Fair visitors.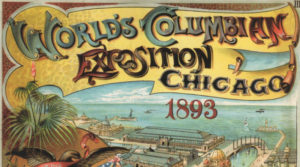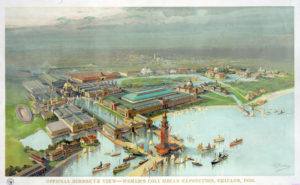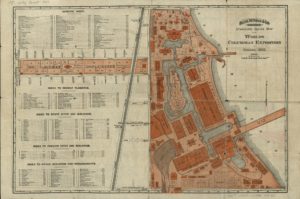 The Columbian Exposition lasted from May 1 until October 30, 1893. It was organized to commemorate the 400th anniversary of Columbus' landfall in the New World. By 1890, the U. S. Congress had the job to select a city that would host the World Fair. Potential exposition sponsors made enormous pledges to become principal contenders as New York, Washington D.C., St. Louis, and Chicago all vied for the honor to host the world fair. It was Chicago banker Lyman Gage's ability to raise several million additional dollars in a 24-hour period that bested New York's final offer, prompting Congress to vote in Chicago's favor. This was just the beginning of many struggles surrounding the site selection, property rights, traffic congestion, the construction process, exhibit selection and identification of exposition authorities. The eventual decision to construct a "White City" with neoclassical structures also prompted debate. Regardless, this event not only became a defining moment in the history of Chicago, but also became a defining moment for many other areas of industry.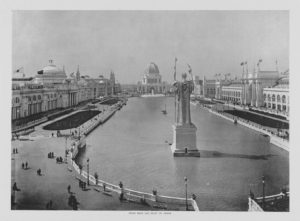 There were two distinct areas of the fair: the White City and the Midway Plaisance. Taking lead from the 1889 Paris Universal Exposition, the midway included representations of various people and cultures. Chicago's exposition directors placed the Midway under the direction of Harvard's Frederic Ward Putnam. He was also selected to organize the fair's Anthropology Building. Putnam's Midway vision was to create a living outdoor museum depicting various countries, especially those with "primitive" human beings that would educate fair visitors. Visitors had an opportunity to "measure the progress of humanity toward the ideal of civilization" (http://www.encyclopedia.chicagohistory.org/pages/1386.html). All of the ethnographic villages and most of the other attractions in the Midway, however, were simply commercial ventures organized by entrepreneurs who obtained concessions through the Ways and Means Committee of the World's Columbian Commission. The Midway Plaisance country exhibits included: an Indian Village; an Americas and Indian Village; Dahomey Village, Austrian Village; German Village; Panorama of the Burmese Alps; Dutch Settlement; Chinese Village,Theatre and Tea House; Japanese Bazaar; Javanese Theatre; Morocco Exhibits, Panorama of Kilaueau; a Roman House; the Eiffel Tower; Model of St. Peter; National Hungarian Orpheum; Algeria and Tunis Exhibit; a Street in Cairo, a Moorish Palace, a Turkish Village and many other commercial ventures that had specific products to market such as the Exhibit of Irish Industries; the French Cider Press, the Venice Murano Glass Company and the Bohemian Glass Company.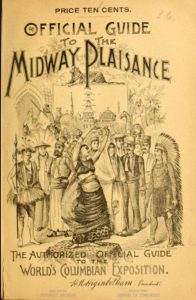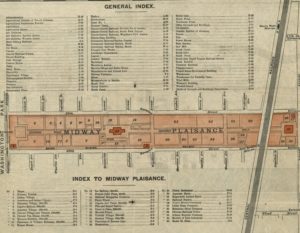 The Columbian Exposition provided theatrical manufacturers, such as Sosman & Landis with many lucrative opportunities. Massive profits were gained in a very short period of time. Moses wrote, "We were simply swamped with work and the prices were big." Sosman & Landis, like many others anticipated the final push towards opening day. Their decision to open an annex studio on the West Side of Chicago would be a convenient space to construct a variety of painted scenery for performance venues and other exhibits. Although the space was initially pitched to Moses as his own personal studio for subcontracted work, it really was the studio that would be ideal for fairground production. Studio space anywhere near the White City would be at a premium and clients would be scrambling at the last-minute to secure a variety of manufacturers. Their annex studio wasn't so much for Moses as the anticipated workload in conjunction with the opening of the Columbian Exposition. I have to wonder at what point Moses realized this factor.
Sosman & Landis had a great many exhibits to do at the Fair as well as scenery for outside shows. Moses' typed manuscript personally documents his involvement in scenery for a variety of productions that included "The Outsider," "Columbus" for Mr. Leavitt, "Fabio Romana," "The Black Crook," "A Day in the Swiss Alps," "South Sea Islanders," "Kansas State Exhibit," "The Laplanders," "Streets of Cairo," Javanese Theatre, Chinese Theatre, a dozen big floats, "Lady of Venice" for Buffalo Bill, W.F. Cody and many others. He also worked on productions that were nearby the fairgrounds such the Trocodevs, the Empire Theatre and the Isabella Theatre. But there were many others produced by the Sosman and Landis studio, such as the various displays in for Western Electric Co. Each of these projects is a worthwhile story to understand and appreciate Moses contributions to the Columbian Exposition.
The next series of posts will examine the Chicago projects that Moses worked on in 1893, both inside and outside of the fairgrounds.
To be continued…