Part 260: Thomas G. Moses Painting for Buffalo Bill's "A Lady of Venice"
Thomas G. Moses created painted scenery for a variety of productions during the Columbian Exposition in 1893. One project was for Col. William F. "Buffalo Bill" Cody.
Buffalo Bill wanted his Wild West show to be part of the Columbian Exposition. The Committee of Ways and Means standard tariff for a concession was fifty percent of gross proceeds, not fifty-percent of the actual profits. Cody did not appreciate the high percentage and withdrew his request. He then forged ahead with his own plan and leased approximately fifteen acres of land adjacent to the fairgrounds and constructed an 18,000 seat coliseum.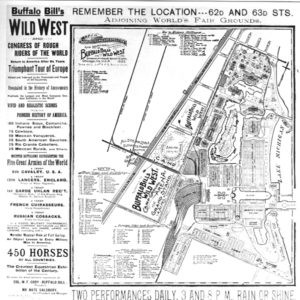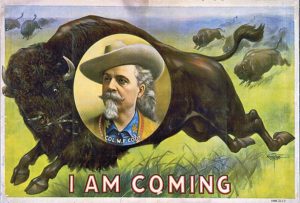 On March 20, 1893, "Buffalo Bill's Wild West and Congress of Rough Riders of the World" arrived in Chicago. 100 former cavalry troops, 46 cowboys, 97 Cheyenne and Sioux Indians, 53 Cossacks and Hussars, and several herds of animals were unloaded from the cars at the railroad. In a bold move, Cody opened on April 3 – a full four weeks before the grand opening of the World Fair. This is especially ironic as the White City was behind schedule in the overall construction process.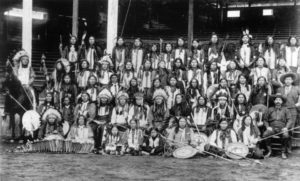 His show included wild animals, bronco busters, a cowboy band, a choreographed Indian attack on the Deadwood stagecoach that was vanquished by mounted troopers, a realistic staging of Custer's last stand, and Annie Oakley's shooting at impossible targets.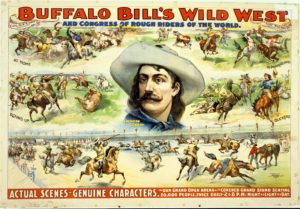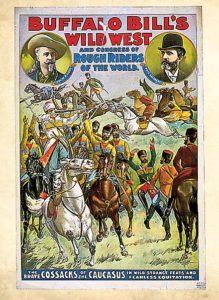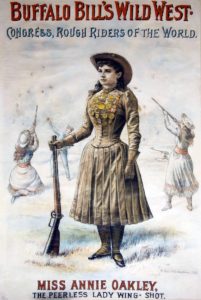 Columbian Exposition officials were less than pleased with Cody's presence. The relationship continued to head south throughout the duration of the fair. When fair officials refused Mayor Carter Harrison's request for a day with free admittance to the poor children of Chicago, Cody immediately announced a "Waif's Day" at the Wild West. He offered every child from Chicago free train tickets, free admission to his show, and all the ice cream and candy that they could eat.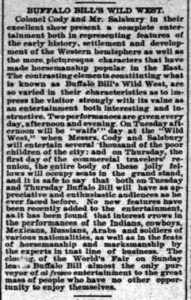 His show even closed one day AFTER the fair officially closed. During the fair, his show averaged 16,000 spectators for each of the 318 performances. His profits were estimated at one million dollars, today's equivalent of approximately twenty-six million dollars.
During the Columbian Exposition, Cody also financed "A Lady of Venice," starring Viola Katherine Clemmons (1870-1930).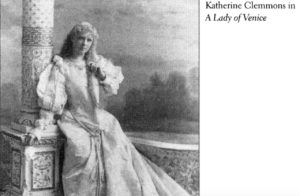 "Katherine" Clemmons was born in Palo Alto, California, and first appeared on the stage of McGuire's Opera House in the mid-1880s. She was cast in a series of Shakespearean plays and traveled to England to study theatre. It was there that she met Cody after she attended one of his shows. Acting as Clemmons agent, he purchased and produced "A Lady of Venice" for her. He established a theatrical business (The Lady of Venice Company) and hired Sherman Canfield to function as her co-manager.
The production opened on September 4, 1893. Newspapers published that it would be "mounted in an extravagant fashion." The scenes were placed in fifteenth-century Venice and Genoa. The plot dealt with Italian intrigues, politics, and love. Written entirely in blank verse, it was advertised as "a romantic story that admits picturesque accessories." Clemmons played the character of Nina, an Italian princess and devoted wife who made many sacrifices for an unworthy husband. In the fourth act, Nina dons a man's armor and attempts to save the city and her husband's honor, battling her husband's enemy to the death. She then seeks her Genoese prince, only to find him in the arms of a fair Florentine girl.
Four railroad cars were needed to transport the settings and properties for "A Lady in Venice." Many newspapers commented on the wonderful mechanical and illumination effects for the stage. Settings included a moonlit masked Fete and Dance, a military encampment, water scenes and canal gondolas. The October 6, 1893 issue of the Buffalo Evening News reported, "The scenery is picturesque and realistic." This was scenery by Thomas G. Moses.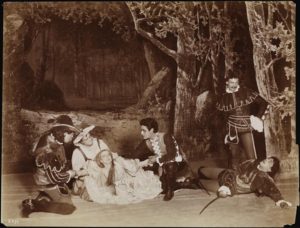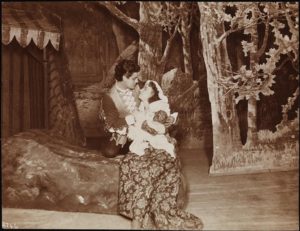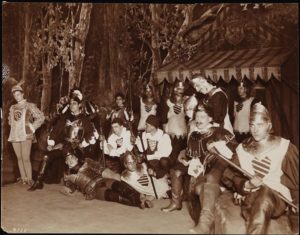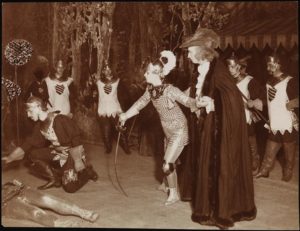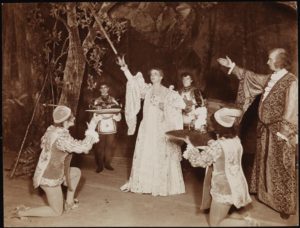 Supporting roles were played by Effie Germon, Francis Carlyle, Clarence Handyside, Richard Ganthony, Erskine Lewis, Helen Russel, and Marion Bender. The show left Chicago for Albaugh's Opera House in Washington D.C. where it opened on September 19. By September 25, the show was at the Broad Street Theatre in Philadelphia and performing for Buffalo audiences by October 6 (Star Theatre), moving onto the Duquesne Theatre on October 30. By November Clemmons was acting at Globe Theatre in Boston. After a whirlwind tour, the production arrived at Harry C. Miner's Fifth Avenue Theatre in New York during 1894.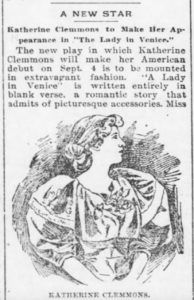 Unfortunately, Boston and New York critics condemned Clemmons' performance as "amateurish" and the delivery of her lines as "monotonous." Cody had met the actress in London during 1887 when Buffalo Bill's Wild West Show was touring throughout Europe. The November 5, 1893, issue of the Quad City Times (Davenport, Iowa) published, "It was Buffalo Bill's money that sent [Clemmons] to Europe for a stage education. It was his money which provided for her elaborate scenery, beautiful costumes, and enterprising manager and a good company." The article continued to explain that he "spent something like $40,000 in putting this young star upon the road, and it is hoped that she is achieving a success that will in time enable her to return to her distinguished friend the large sum of money which his generosity led him to invest in her." Cody later claimed to have lost $60,000 on Clemmons' career during 1892, 1893 and 1894.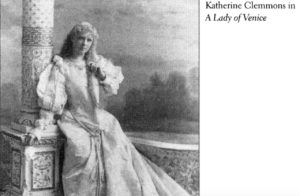 Unlike Clemmons, the production was praised for its lavish expenditure on scenery and costumes. The cash outlay for scenery and stage effects was reported in excess of $25,000. The Boston Enquirer (7 Oct 1893, page 3) noted that, "the play was sumptuously staged" and "the scenery well painted."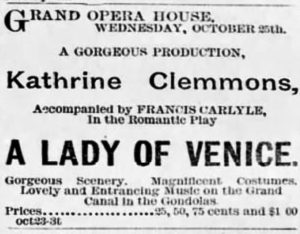 Cody hired Sosman & Landis to design and paint the scenery for the production. The Daily Inter Ocean (22 August 1893, page 6) published, "A great many managers are stocking with scenery just now in this city. Sosman & Landis have big contracts for stocking new opera houses at Ithaca, NY, and Scranton, Pa., then they are painting an original scenic outfit for "The Lady of Venice," Effie Elishler's "Doris," Heywood's "Edgwood Folks," Spring & Welton's "Black Crook," and Cheeney's new spectacular production of "Pharaoh." Moses was in charge of "A Lady of Venice" and many other projects during 1893. This was just one small fraction of his work with a large profit going to the studio.
To be continued…