Part 284: Grace Wishaar, Scenic Art in Seattle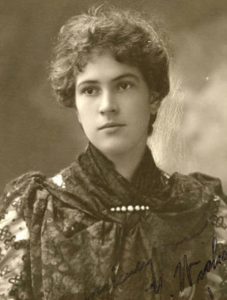 Grace Norton Wishaar was born October 26, 1876, in Beverly, New Jersey. She died on February 21, 1956 in France. Wishaar's story goes from being a scenic artist during the 1890s in Seattle to being the Ladies Champion of the Paris Chess Championship in 1944.
She was the daughter of Émile Bernard Weishaar and Marie Ida Smith. The Wishaar family moved around a lot and eventually settled in Seattle, Washington where her mother became a playwright and her father was dramatic editor for a newspaper.  Both Grace and her sister Jennie (b. 1880) were encouraged to develop their talents. Grace studied art, opening a portrait studio, while Jennie McGraw Wishaar, (born 1880) studied music.
On July 7, 1896, the Seattle Post-Intelligencer" reported that Grace Wishaar was "Seattle's talented young artist" (page 9). The population at the time was approximately 65,000 people. The article commented that with "a few years study [Wishaar] would develop into genius that would enable the young lady to make herself riches and fame" She had just completed a series of painted portraits.
One day, the Seattle Theatre needed an artist to paint a drop. Grace's father mentioned the prospective project to his daughter and encouraged her to contact the manager, Mr. Russell. Although he laughed at the idea of having any woman paint for his theatre, Russell gave Wishaar the opportunity to prove herself. The drop was such a success that she continued to paint for theaters in the area, including both the Seattle Theatre and the Cordray Theater over the next two years.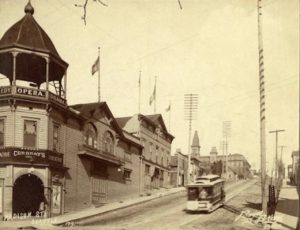 Neither of these venues was small and the drop could have easily measured approximately 34 feet wide. Her work at the Seattle Theatre was for a house of 1300 people. Located at the northeast corner of Third and Cherry Street, the building had thirteen dressing rooms, eight properties room, and was lit by electricity. The proscenium measured 33 feet wide by 36 feet high and the stage was 40 feet deep. The height to the rigging loft was 64 feet with two bridges, suggesting that the drops were flown. The official scenic artist for the venue was listed as T. Masis in the 1897 Julius Cahn's Official Theatrical Guide. However, this might have only meant that he created the original scenery for the venue as Thomas G. Moses was listed as the scenic artist for the Tacoma Theatre at the same time that was approximately 35 miles away.
Later newspaper interviews covering Wishaar noted that she also worked for actress Katie Putnam (actress and wife of producer and manager Henry B. Emery), as well as with Sosman & Landis at this time. As I read Sosman & Landis, I got goose bumps; Moses was in the region at the time as it was just before he left the scenic studio to work in New York! Of all the scenic studios and artists that were working in the Pacific Northwest at the time, Wishaar mentioned working with Sosman & Landis! Both she and Moses left for the East coast approximately at the same time too.
In 1900 Thomas G. Moses left Sosman & Landis to start another scenic art partnership with Will Hamilton. Moses & Hamilton produced scenery for opera, Broadway and Coney Island from 1900-1904, when he returned to Chicago. It was after working with Sosman & Landis that Wishaar also decided to head east where she would get training in Boston and then paint scenery in New York. What was the possibility that Moses met Wishaar? It is unclear which Sosman & Landis artists Wishaar worked with, so the question remains unanswered. But someone encouraged Wishaar to leave Seattle and forge ahead.
Wishaar also had an extremely interesting personal life – the kind that is the subject for a great book. In 1897, Wishaar married Whitney Irving Eisler (September 13, 1897). This was at the time that she began painting for theatre in Seattle. In 1898, she had a child. However, that child was named after the man who would be her second husband by 1902, Peeke.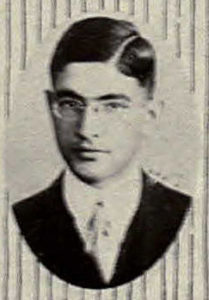 Carroll Earl Beauchamp Peeke (1898–1991) was the son of Oscar Graham Peeke. Lt. Col. Carroll Peeke grew up in Seattle, fought in WWI, and graduated from University California at Berkely. Hejoined the San Francisco Call-Bulletin in 1922 and later worked as city and diplomatic editor at the Times Herald in Washington, D.C.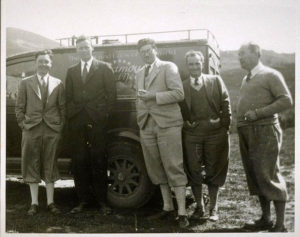 The year after Wishaar gave birth to Carroll, she left Seattle for New York with a determination to succeed in the world of scenic art, later returning in 1902. There is something about a woman continuing with her career even after giving birth during the 1890s that greatly intrigued me. During the fall of 1899 Wishaar studied at the Chase Art School, only briefly returning to Seattle, before looking for work in New York by January 1901.
Four months later, she was interviewed by the by the Buffalo Morning Express and Illustrated Buffalo News (April 4, 1901, page 3). They published an article, "She is a Scenic Artist," reporting that Miss Grace Wishaar had recently arrived from Seattle and was working with the scenic artist Frank D. Dodge. Wishaar was described as dressed in a denim apron with "forty kinds of paint" on it. The journalist also commented how pretty this small "slip of a girl" was with her brown hair and dark eyes.
The article also made it clear that Wishaar had no interest going out or being distracted while working in New York. At the end of the interview she simply explained, "I am here to work. I confess I don't like theaters and the cafes very well, and if I had wanted society, I should have stayed in Seattle for that. I love my work. I love it! There is no place in the world, you know, where it is taught. I have been lucky enough to be born able to do it a little, and I won't share my time with anything else." She continued, "They told me at half the theaters in town that a woman couldn't do it. Any way, I have proved one woman can."
To be continued…