"Tales of a Scenic Artist and Scholar" will return on Tuesday, December 26.
Until then, here is a delightful advertisement for Santa Claus Soap that I stumbled across in the Weekly Pioneer-Times (Deadwood, South Dakota) from March 30, 1893 (page 2). This just made me giggle!
I couldn't believe my eyes when I read the following: "Ride a cockhorse, to Chicago of course, to get some of Santa Claus' Soap which is boss.  Its merits for cleaning and washing the clothes, assure it a welcome wherever it goes.  Fairbank's Santa Claus Soap is the best for every household use.  All grocers keep it.  Made only by N. K. Fairbank & Co., Chicago.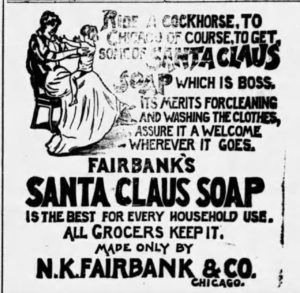 Have a wonderful Christmas eve and day!
Wendy