Part 287: Grace N. Wishaar and Harry W. Bishop
Grace N. Wishaar painted scenery for a variety of venues along the west coast after leaving New York 1902. In Seattle, she was photographed painting with Sheridan Jenkins, the scenic artist for the Third Street Theatre. The following year, she began working in California. Even though she married for a third time in 1906, she continued to paint under her maiden name. Her first two husbands were Whitney Irving Eisler (1897) and Oscar Graham Peeke (1902).
On August 14, 1906, Wishaar married her third husband, John Bruce Adams. However, the marriage was short lived and in 1907 the Oakland Tribune reported, "Mrs. Grace Wishaar Adams is in Matrimonial Trouble" (July 17, 1907). Adams deserted Wishaar and left a lot of debts in her name. At the time her marriage with Adams ended, she was painting all of the scenery at Ye Liberty Playhouse and Idora Park.
In California, she also worked at San Francisco's Majestic Theatre and few other performance venues in San José. One of her greatest supporters was Harry W. Bishop (1872-1928), considered to be one of "the pioneers of California theatredom" (Oakland Tribune, 15 June 1928, page 33).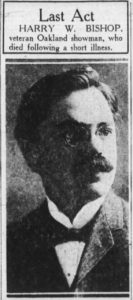 Bishop was the adopted son of Walter M "Bishop" (1849-1901), otherwise known as Walter Morosco, the proprietor of Morosco's Royal Russian Circus.
Harry W. Bishop's obituary reported that he "began his career as a showman in San Francisco and ended it brokenhearted and poor as a sometime real estate operator." But the story couldn't be that simple. Oliver Morosco adopted Walter and Leslie Mitchell, orphaned sons of Sir John Mitchell and Dora Esmea Montrose of Utah. Some sources reported that Walter ran away from home at the age of 17 to join the circus as an acrobat.
After Walter left his circus career, he took over the Howard Street Theatre in San Francisco and started his new venture as a producer and manager. He later took over the Burbank Theatre in Oakland, as well as the Union Hall and the Grand Opera House in San Francisco. It was at the opera house that Harry W. Bishop began his career and Oliver Morosco was the treasurer. Fire destroyed the historic opera house in 1906, two years after he constructed another theatre – Ye Liberty Playhouse.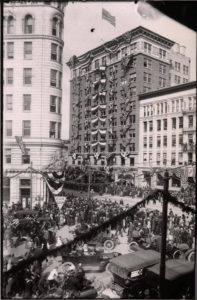 Harry W. Bishop opened Ye Liberty Playhouse in 1904, boasting the first revolving stage in the western United States. By 1905, Bishop managed the San Francisco's Majestic Theatre, Central Theatre, the American Theatre and Bell Theatre. In Oakland, he managed Ye Liberty Playhouse, where Wishaar began as his scenic artist. Bishop would later build what became known as the Fulton Theatre too. His obituary reported that "he won a reputation as a star-maker and while his productions, both dramatic and stock, concert and musical were famous, he was not in the commercial way. Throughout his career he remained a dreamer and his sole use for money was to return it to the theatre in the way of more lavish productions and finer casts until the profit was reduced to a minimum."
Bishop was ahead of his time, not only offering Wishaar the opportunity to paint at his theaters, but also offering other women positions as ushers and ticket takers. There was another aspect to Bishop that I find fascinating as it would have greatly affected the venue where Wishaar worked. Bishop was an inventor, filing for patents relating to theatre design and stage construction.
In 1908 Bishop filed for a patent. His invention was "to provide a theater structurally arranged to permit the elevating or lowering of the main stage; to provide a vertically movable stage, horizontally 'revoluble,' and means for accomplishing this action; to afford a stage adapted to be bodily raised or lowered and simultaneously revolved if so desired, or lowered, and have a portion of its area revolving in one direction while another portion is rotating reversely." Bishop stated that it was also "desirable to raise or lower certain scenes, suspended from or secured to the rigging-loft." It goes onto describe that the principal advantages of his invention was in "the possibility of setting up all the scenes each completely, on the surface of the stage, the area of which may be divided into scenes as desired, and of suspending all the drops, hanging pieces, ceiling borders, ceiling pieces and border and other overhead lights that may be used, for all the scenes each completely, from the gridiron or rigging-loft, and of then revolving the stage and the rigging loft in a horizontal plane so that each scene is, in its proper sequence, aligned proximate to the proscenium." He proposed that there was incentive "to devise a theatrical structure that will admit of building or setting scenes of as nearly normal and natural effect as is possible to attain, by elevating or lowering all of the visible matter within the proscenium.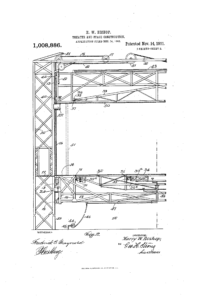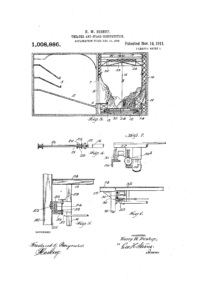 Here is the link: https://www.google.com/patents/US1136860?dq=ininventor:%22Harry+W+Bishop%22&hl=en&sa=X&ved=0ahUKEwi1772s46fYAhWM5YMKHXT_Du8Q6wEIMTAB
In 1914, Bishop also engineered a new and improved proscenium opening and structure. The ultimate purpose of his invention was "to produce upon the mind an impression of the picturesque, unmechanical production and to eliminate the rigidness given by architectural ornamentation common to arch work and prosceniums." This was enhanced by "providing a curtain movable just behind the rear edge of the frame and which may be decorated with a scene harmonious and introductory to the arrangement of property on the stage so that when the curtain rises the transition is a continuation of the introductory scene on the curtain." Lights were placed in a concavo-convex contour at such a depth that it projects somewhat in front and behind the wall."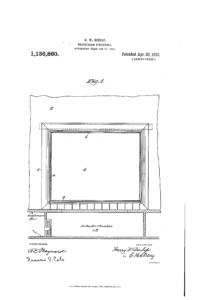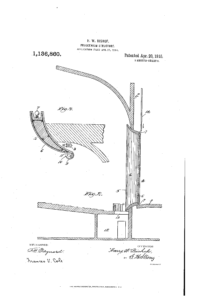 Here is the link: https://www.google.com/patents/US1008886?dq=ininventor:%22Harry+W+Bishop%22&hl=en&sa=X&ved=0ahUKEwievLW83afYAhWe8oMKHYRTC0gQ6wEIODAC
In 1918, Harry W. Bishop lost the majority of his fortune including his home in the exclusive Piedmont residential district. Wishaar had also lived in Piedmont with her family. A decade later Bishop passed away, leaving his widow Florence and five children: Mrs. George Stimmel, Lester K., Walter K., Dalton, and Beverly Bishop. By 1928, Wishaar was still in Europe and continuing on with her own adventure that had begun in 1914. California remained far behind her.
To be continued…