Part 315: Robert S. Duncanson (1821-1872), African-American Landscape Artist
There was something that I kept wondering while researching Solomon E. White; why did he keep returning to Cincinnati? What kept drawing him back to the city? Was it family, a supportive network of friends, a diverse community, or a vibrant artistic scene? I started to look at the demographics. First of all, Cincinnati was considered a "southern town on free soil." It was a hub for many freed and escaped slaves. Between 1840 and 1850 the population expanded from 43,000 to 115,000, and the city hosted one of the largest African-American communities in the country. Cincinnati also had a strong arts community and was often referred to as "the Athens of the West." Its African-American population encountered better opportunities to advance than in many other parts of antebellum America.
As I explored hundreds of online images, I became extremely enamored with the work of one landscape artist – Robert Seldon Duncanson (1821- 1872).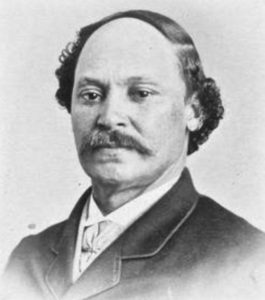 He was not only inspired by Thomas Cole and the Hudson River School, but also had a Cincinnati connection. Born to an African-American mother and a Scottish-Canadian father in Fayette (Seneca County) of New York, he moved with his mother to Mt. Healthy, Ohio, in 1841. They lived there with the Reuben Graham family, who were descendants of Virginia slaves. This particular community near Cincinnati had a substantial "free-black" population.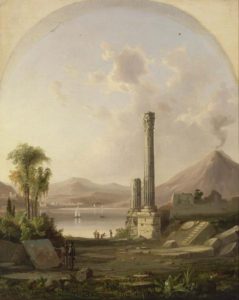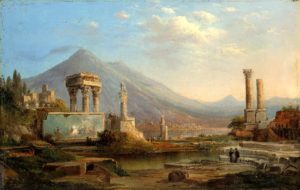 By 1842, Duncanson was exhibiting his art in Cincinnati. Typical artistic commissions for Duncanson included landscapes, portraiture and murals. The following year, he partnered with an African-American photographer to create a new form of visual spectacle called "chemical paintings." They were large-scale compositions that depicted a metamorphosis on stage, transitioning many scenes from morning until evening with a Daguerreotype form of magic.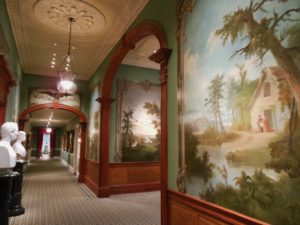 In Cincinnati, Nicholas Longworth (abolitionist and political leader) also hired Duncanson to paint a series of murals in the Belmont hall and reception room from 1848 to 1851. There were eight murals that measured approximately 9 feet by 7 feet in size.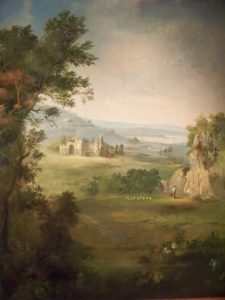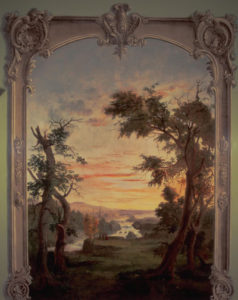 The Longworth Mansion is now known as now the Taft Museum. His murals are still there.By 1849, Duncanson maitained an art studio in Detroit. Two years later, a Cincinnati patron funded a sketching trip for him to travel to New Hampshire and Vermont. During this period, Duncanson traveled widely throughout the region. The Anti-Slavery league funded a trip for his artistic study in Edinburgh, Scotland during 1853. On this trip he continued onto England, France, Germany and Italy.
The Smithsonian American Art Museum posted his words online from a letter to Junius R. Sloan on 22 Jan. 1854: ""English landscapes were better than any in Europe, and the English are great in water color while the French are better historical painters than the English. I am disgusted with our Artists in Europe. They are mean Copiests. My trip to Europe has to some extent enabled me to judge of my own talent. Of all the landscapes I saw in Europe (and I saw thousands) I do not feel discouraged" (Platt R. Spencer Collection, Newberry Library, Chicago, Ill.). During the 1850s, Duncanson went on sketching tours with Whittredge and William Sonntag. He would later travel with Sonntag to England, France and Italy. When he returned, he worked in J. P. Ball's studio, retouching portraits, coloring prints, and exhibiting his paintings.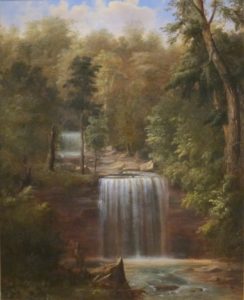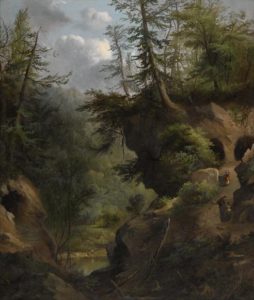 In the 1860s, Duncanson ventured north from Minnesota to Vermont and into Canada to Montreal, before leaving for Scotland again. Prior to his departure, he saw Frederic Edwin Church's "Heart of Andes" (1859) on its national tour at Pike's Opera House in Cincinnati. It greatly inspired him and he began his painting "The Land of Lotus Eaters."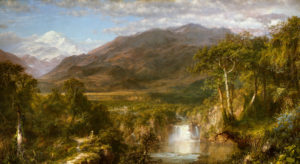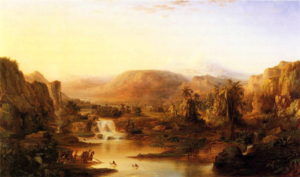 From 1864 to 1866, his name is not listed in either Detroit or Cincinnati directories. By 1867, he returned to the United States, making one last trip to Scotland from 1870-1872. Upon his return, he exhibited his Scottish paintings and successfully sold many for handsome prices.
Unfortunately that same year, Duncanson also suffered from a seizure while arranging an exhibition of his work in Detroit. After being hospitalized for three month at the Michigan State Retreat, he died. He was only 51 years old.
One can only imagine the mental and emotional stress it took to encounter the problems facing a biracial artist in pre- and post-Civil War America on a daily basis. People of color experienced a period of increased discrimination throughout the country as there was a backlash from many; those seeking to place blame on others for so many issues. This candle of hate has yet to be snuffed out.
As I continue to witness the rise of the white supremacy movement and a continued racial inequality almost 150 years later, I cannot help but feel sorrow. I also feel inadequate when I consider the lack of obstacles that I face on a daily basis compared to people of color. Would I have the strength to survive as an African American artist in the nineteenth century? I have never had to struggle any insurmountable obstacles and honestly don't know.
Looking at Duncanson's work, however, helps me understand why Solomon E. White continued to return to Cincinnati and work as both a fresco and scenic artist. It was a community that provided a place for Duncanson's art. I am sure that the display of Duncanson's artwork provided hope for other aspiring African-American artists during that time. These were the individuals who made progress possible. We simply can't go back, or loose even an inch of ground. Those who paved the path for future generations deserve our continued action toward equality and nothing less.
To be continued…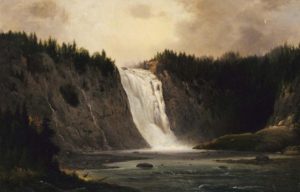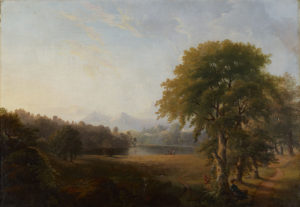 There is a great timeline for Robert S. Duncanson posted at : http://grahamarader.blogspot.com/2012/09/arader-galleries-exhibits-significant.html