Part 328: Thomas G. Moses and "The Witch," 1895
Gustave Frohman married Marie Hubert, an actress best known for her performance in "The Witch." In 1895, Moses designed and painted the scenery for "The Witch" at the Schiller Theatre. Of the production he wrote, "I certainly injected plenty of local color, for it created some talk. One newspaper critic said, 'Even the scene was imbued with witchcraft.' It was during the days of witchcraft at Salem, Mass."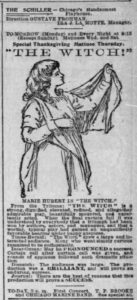 The Chicago Tribune announced that "The Witch" was a picturesque American play by Philip G. Hubert and Marie Madison (17 Nov 1895, page 42). It was a companion piece to the dramatization of the "Scarlet Letter," performed in Chicago several years earlier by Richard Mansfield. The article continued, "it presents a series of striking pictures of the puritan, psalm-singing, preaching, praying, witch-burning life of Salem town in the early days."
Here is the plot of 'The Witch," as published in the Chicago Tribune " (19 Nov. 1895, page 5):
Walter Endicott, a Salem youth, while hunting in the forest stumbles upon a Roman Catholic chapel attended by a venerable priest; his gentle ward, Leontine, an abandoned child, fruit of an unblest union, whom he has destined for a nursery; and an Indian, Amooka, who loves Leontine. Walter falls in love with Leontine and the priest reluctantly unites them. Six months afterward Walter resolves upon a journey to Salem and on his way is secretly attacked by Amooka, who leaves him for dead, and when he is rescued and revived by strolling citizens of Salem he is arrested as a spy. In the role of the heroine, and to release the hero, Miss D'Arville dons the uniform of an American officer and enters the enemy's camps as a deserter. Having grown considerably stouter Miss D'Arville's uniform has its own difficulties in adjustment. The British General's wife, Mrs. Grumm, overlooks and accepts the new arrival as a man. Being impressionable she falls victim to the supposed gallant's fascinations. Accepted into the British forces, the General's wife proceeds to get the recruit a uniform. Instead of donning it the heroine assumes the dress of a maid, and comes forward with the announcement: "How good it does feel to get back into women's clothes and to be able to breathe without being afraid something will break?" Viewing her as a maid, the General himself becomes enamored, a proceeding which greatly amuses Mrs. Grumm. To further the joke she furnishes an evening gown to the supposed young man in which to attend the ball. In décolleté costume, which f course strengthens the verity of the situation, the fortunes of the heroine reach the close of the second act. In the third happiness is attained, the lover having been aided to escape, and Washington forwarded important papers to the heroine. In the maid's dress and in her ball gown Miss D'Arville appeared in all her accustomed attractiveness, and proved herself in excellent voice."
The review also noted, "Thomas G. Moses has painted five sets of scenery for 'The Witch," which together with special costumes and other accessories, will be taken direct to New York after the initial three weeks run at the Schiller." The scenes of the five acts were: Father Ambrose's mission; the commons in old Salem; the old Salem Prison; the old Salem Court House; and daybreak on Gallows Hill.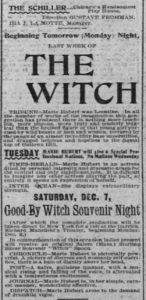 While on tour, the Philadelphia Enquirer reported, "The beauty of the scenes of Gustave Frohman's production of 'The Witch," its fidelity to historical data, while preserving every dramatic possibility, and the good acting of Marie Hubert and the company surrounding her, have made the production an artistic success, which it is a pleasure to chronicle" (1 Dec, 1895, page 18).
To be continued…
For larger picture files, join the FB group, Dry Pigment