Part 335: Pittsburgh's Avenue Theatre and Lumiere's Cinematograph
Thomas G. Moses painted the stock scenery for the Avenue Theatre in Pittsburgh, Pennsylvania during 1895. The proprietor and manager was Harry Davis who advertised the venue as "the Mecca of refined Vaudeville," (Pittsburgh Post Gazette 20 Nov. 1897, page 5). He also promoted that it was the "Family Avenue Theatre" and booked acts for ten hours every day – 1PM to 11PM.
A year after opening the Avenue Theatre, Davis, partnered with his brother-in-law, Senator John P. Harris, to present a new form of entertainment. They presented the first motion pictures to audiences in 1896. The Pittsburgh Post advertised this first exhibition of "Europe's Reigning Sensation- Lumiere's Cinematographe" to premiere at "The Avenue." The Avenue Theatre was marketed as the theater "where the people go" (Pittsburgh Daily Post, 6 September 1896, page 16).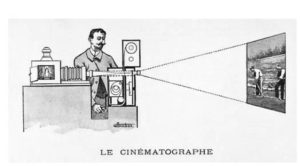 The Lumiere brothers, Louis (1864-1948) and August (1862-1954). patented an improved cinematograph that allowed simultaneous viewing by multiple individuals. A cinematograph is a motion picture film camera that serves as both a film projector and printer. The device was first invented and patented as the "Cinématographe Léon Bouly" by French inventor Léon Bouly on February 12, 1892. "Cinématographe" was taken from the Greek for "writing in movement." Due to a lack of funding to develop his ideas and maintain a hold on his patent, Bouly sold his rights to the device and its name to the Lumiere Brothers.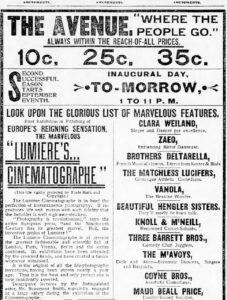 The 1895 Pittsburgh Post newspaper advertisement for "Lumiere's Cinematographe" included a lengthy description of this novel entertainment:
"The Lumiere Cinematographe is in brief the perfection of instantaneous photography. It reproduces life and motion with such fidelity that the beholder is well nigh awe-stricken. 'Photography is revolutionized,' says the entire European press, 'and the Nineteenth Century has its greatest marvel. Hail, the inventive genius of Lumiere!' The Lumiere Cinematographe is at present the greatest fashionable and scientific fad of London, Paris, Vienna, Berlin and the entire continent. Its exhibitions have been attended by the crowned heads, and have created a furore wherever witnessed. It is the original of all the life-photography inventions, having been shown nearly a year ago. That is the best and only perfect one is now confidently asserted. Descriptive lectures by the distinguished actor, Mr. Beaumont Smith, especially engaged as a large salary during the exhibition of the Cinematographe." Smith was a singing comedian who traveled throughout the region.
Shortly after Harry Davis presented Lumiere's Cinématographe at the Avenue Theatre, Edison's Vitascope was showing at the nearby Bijou Theatre. This was Davis' first competition and would mark a battle that would ensue across the country during the early years of moving pictures. Audiences were enthralled with this new form of visual spectacle, while panorama companies and the producers of other stationary spectacles feared the paradigm shift in the entertainment industry. It explains the theatrical manufacturers' drive to incorporate even grander spectacles with movement for their staged spectacles, such as the chariot race in Klaw & Erlanger's "Ben-Hur."
In 1898, the "Chemical Trade Journal and Oil, Paint and Colour Review" included information about an upcoming photographic exhibition (Vol. 22, page 282). It reported, "The following article will be shown by Fuerst Bros. at the forthcoming photographic exhibition, Portmanrooms, London, W.: Lumiere's cinematograph machine, Lumiere's cinematograph special camera for projection only, Lumiere's cinematograph blank negative gauge and positive film (perforated to either Lumiere of Edison gauge), Lumiere's cinematograph accessories, Lumiere's negative and positive films (a large assortment of English and foreign subjects), Lumiere's photographic dry plates, extra rapid, orthochromatic, panchromatic and special X-Ray plates, Lumiere's Citos paper, glossy and matter, bromides for contact printing and enlargements, Lumiere's pyroacetone developer, Lumiere's yellow screens, Hauff's developers (ortol, amidol, metol, glycin, etc.) Hauff;s toning and fixing and fixing cartridges, Hauff's thiocarbamid (stain remover), hydroquinone, eikonogen, ordinal, etc., chloride of gold in 15 grain tubes (Axe" brand, English make), nitrate of silver (cryst. And fuse, "Ax" brand, English make), and all photographic chemicals."
To be continued…