Technical Gelatin, sometimes referred to as gelatine, is made from pork skin. Sheet or plate gelatin is sometimes preferred over granular or powdered animal glue, because it results in a clearer, more transparent product. This makes it ideal for use in gilding. Gelatin is preferred by many professional gilders over hide glue, because it can take a burnish easier than hide glue when mixed with gilder's clay, chalk or gesso.
As with hide glue, gelatin glue is graded and sold by its Bloom Value or Bloom strength. Bloom value is a measurement of the strength of a gel formed by a 6 and 2/3% solution of the glue that has been kept in a constant temperature bath at 10 C for 18 hours. A device called a Texture Analyzer or Bloom gelomater is then used to measure the weight in grams required to depress a standard plunger 4 millimeters into the gel. If this procedure requires 200 grams, then the glue is a 200-bloom value glue. Glue is also tested for its viscosity at this same 6 and 2/3% concentration. A standard viscosity range is associated with each bloom level. Technical gelatin has a bloom value of 100-110 mg. The bloom measurement refers to the elasticity of a gelatinous mass. The higher the number the greater the elasticity.
So, technical gelatin dries clearer, but has less elasticity of the gelatinous mass.  Therefore, full strength technical gelatin is best used in painting hard surfaces that remain stationary hard.
Again, the majority of the text was extracted from various supplier links, including http://www.naturalpigments.com; https://www.asianproducts.com/hotproduct/manufacturer_handicraft-making.htm; http://www.indiamart.com
Attached are examples of technical gelatin sheets and powder.  The technical gelatin that I have used in the past came in the form of a very fine powder.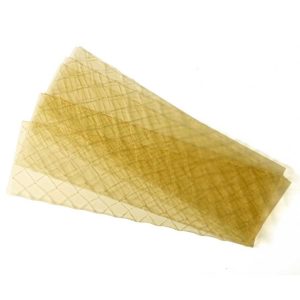 Technical Geltain Sheets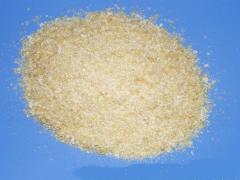 Technical Gelatin Powder