I encountered an image by Russell Patterson in Andrew Geis' Source Book. Compelled by the image, I decided to see who this artist was and when he worked. He is one fascinating guy! A contemporary of Geis' and possible colleague in Chicago. They certainly travelled in the same circles!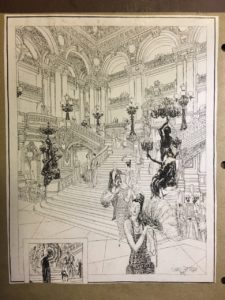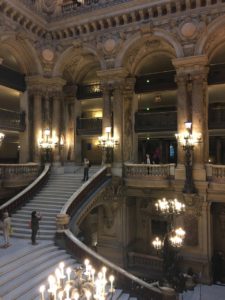 I have included an image of the actual location that he was illustrating (Garnier Opera in Paris) – luckily, I took a similar photo in Paris last summer! Almost like I knew that I would need it…
Russell Patterson (1893-1977) was an American cartoonist, illustrator, costume designer, prop builder, scenic designer, and many other things!
Born in Omaha, Nebraska and raised in Montreal, Patterson moved to Chicago during WWI to become a catalogue illustrator. Early work includes department store designs for Carson Pirie Scott & Company and Marshal Field. Side note: Many free lance scenic artists and studios sought these same store designs as part of their business. Patterson also attended the Art Institute of Chicago – as did most scenic artists at the time. His path would have constantly crossed a variety of scenic artists in Chicago! Another business venture that he was engaged in from 1922-1925 was a mail order art instruction course!
His art deco magazine illustrations helped promote the 1920s "flapper" image – known as the Patterson Girl. Similar to the Gibson Girl, his work really defined the 1920s and 30s fun-loving female in fabulous attire.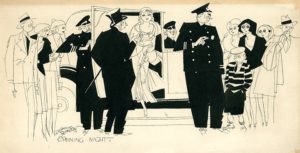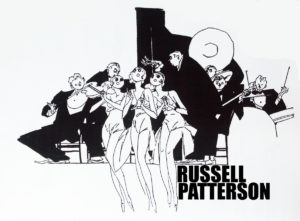 In 1925, he moved to New York and worked as an illustrator and designer for the theatre – both costumes and sets. On Broadway, Patterson's productions included The Gang's All Here" (Costume Design, 1931), "Ballyhoo of 1932" (Costume designer, director, and scenic designer); "Hold Your Horses" (Costume designer, 1933); "Fools Rush In" (Scenic designer, 1934); "Ziegfield Follies of 1934" (Costume designer); "The Illustrator's Show" (Curtain design, 1936)"and "George White's Scandals" (Scenic Design, 1936). For more information about these shows, go to the Broadway Database at https://www.ibdb.com/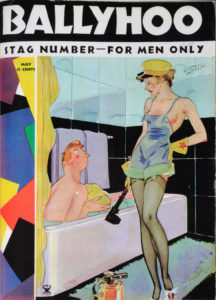 From the 1920s through 1950s, Patterson continued to draw for a variety of publications, including Sunday newspaper magazine covers and comic strips. "Mamie," a Sunday page for United Features Syndicate was one such example. Art historians note that he was one of the key artists who brought the "dumb blond" back into vogue in comic strips with her small waist and long legs (Really?!?! I have to wonder when this character was ever absent from our culture or printed history…). Patterson later became the President of the National Cartoonist Society.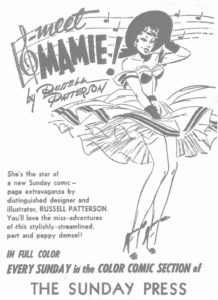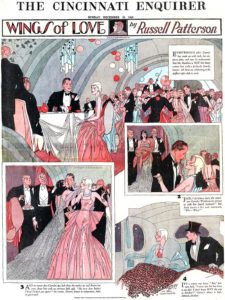 His sporadic visits to Hollywood during the 1930s, involved him in a variety of interesting projects, including the creation of life-like dolls that he called, "Personettes." These props appeared in the film "Artists and Models," starring Jack Benny. He also designed Shirley Temple's wardrobe "Baby, Take a Bow" in 1934 and a whole host of other projects for film.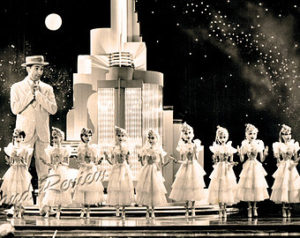 Frequently traveling from one end of the country to the other, Patterson even judged the Miss America Swimsuit Competition in Atlantic City in 1933 with Gladys Glad (Ziegfield Follies Girl)?!?! He obviously enjoyed the female form…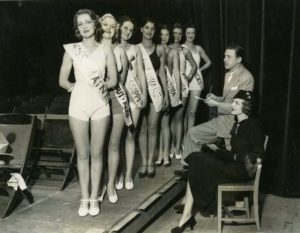 For more information on Patterson, see "Top Hats and Flappers: The Art of Russell Patterson," (Fantagraphics, 2006).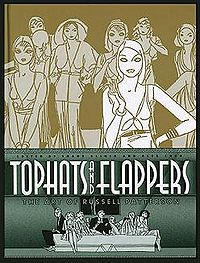 I am so glad that I followed my curiosity to see who was behind the signature!