Part 73: Hot Melt Glue on Historic Scenery is Like Scotch Tape on a Rare Book
All of the Fort Scott drops hanging for the Singers in Accord concert at the Minnesota Masonic Center were ruined beyond repair. There was nothing I could do other than sit in the audience and try to enjoy the music, while inconspicuously wiping away tears. I assessed the obvious damage apparent from my seat in the fourth row. My mind raced as I tried to problem solve every visible flaw and come up with any solution for its repair.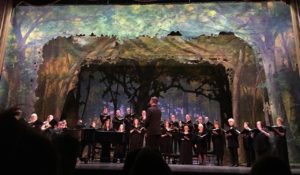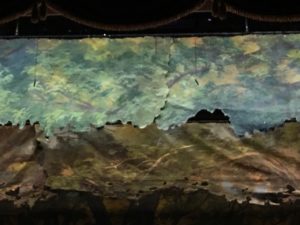 From the auditorium, everything had a slight sheen that accentuated all of the sags and wrinkles caused during the improper handling and preparation for hanging. The shiny surface, a result from having too much glue in the stabilization spray, suggested that there would be a slight "crunch" to fabric if I touched it. The trees were limply hanging at a slight angle with visible netting gathering at the sides of the leg drops, like curtains. Everything looked "off" – a sad little spot in the forest indeed.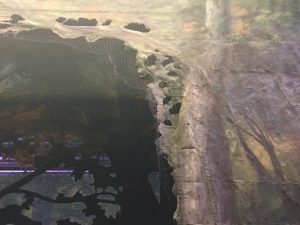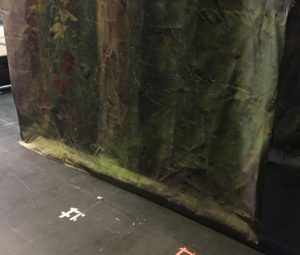 I looked up to see how the tops were attached and froze. It was worse than I could have possibly imagined. The top part of the leg had not only been cut in two and glued together to reduce the overall width. Instead, the cut edge had little "puffy cloud" scallops, as if made with craft scissors during a scrapbooking session. The two edges were loose and gapping. The entire top of the wood leg drop was not even netted. What had they been thinking?!?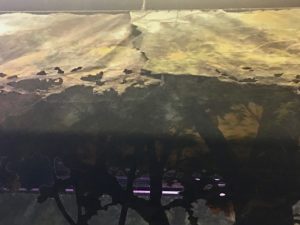 The concert ended and I whispered to me mom, "I'll be right back." As I wound my way toward the backstage area, I tried to not make eye contact with anyone who might stop me. I dashed up the steps and darted behind a leg drop. I wanted to see how the netting was attached to the fabric. Would it be possible to ever take it off?
I stared in horror at the hot melt glue threads connecting one knotted intersection to another. This was worse than I could have possibly imagined. It seemed hard to believe that anyone who had ever worked in theater could do this poorly of a netting job. Let alone how Outhouse Exhibit Services, a company that handled historic artifacts and constructed museum exhibits, could possibly justify the use of hot melt glue on a historic painting acceptable in any circumstance. Hot melt glue on historic scenery is like Scotch tape on a rare book!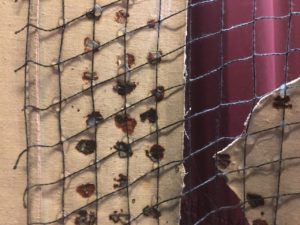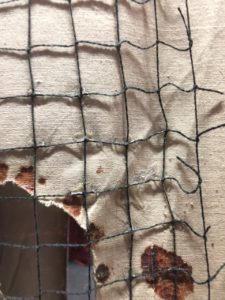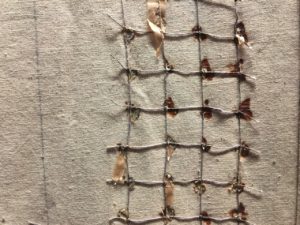 On top of the completely inappropriate use of hot melt glue, the netting was attached crooked. It was apparent that no guidelines had been snapped to layout the netting. This was a crucial step in the netting process. Even a quick Google search on "How to net a cut drop" would immediately reveals the netting process in detail as described in "Scenic Art for the Theatre: History, Tools, and Techniques" (Susan B. Crabtree and Peter Beudert, 2004). Had they not done any research on what to do – even on a new drop? The entire netting process for cut drops is available for preview online and to download as an ebook.
I was in the middle of looking at the scene when two of my husband's colleagues approached me. "Nice job," they said and I immediately shook my head. "No," I responded, "I had absolutely nothing to do with this restoration – it was done by someone else." They at once looked at me with a profound sense of relief. "Oh, thank goodness," one said, "The scenery really looks bad." I grimaced and nodded in agreement. So, other people saw the flaws too.
The fact that they thought I was the one responsible for the destruction of these drops gave me a chill. For people who were unfamiliar with my work, this could destroy my entire restoration. Only a very small number of people realized that I had been let go from my position as Curatorial Director.
I left the stage and sought out my husband to congratulate him as his group of fans had diminished by that point. Giving him a hug, he asked, "How did it look?" I half-smiled and nodded, not wanting to say anything that would detract from his moment. "We can talk about it later, just enjoy your success!" Then I wandered to the back of the theater to quietly chat with our friend who had photographed the concert. After mentioning the sad state of the scenery, he looked at me and said, "Not your circus. Not your monkeys." He was right, but I had a growing concern that people mistakenly believed that I restored the scenes and in my field, reputation was everything.
A few years back, I had a professional drop to his knees and bow. I couldn't conceive that his gesture and was meant for me and looked over my shoulder, expecting to see the recipient of his praise. We were meeting for the first time in 2014 at a League of Historical American Theaters conference in NYC. He got up from the floor, shook my hand, and said, "It's so nice to meet you, I've seen your work in McAlester, Oklahoma. It's absolutely amazing!" The professional was Jeff Greene of EverGreene Architectural Arts and he had just finished discussing his own company's restoration work at King's Theatre in Brooklyn. I considered Jeff to be one of the preeminent experts in the field of historic theater restoration and couldn't possibly understand how he might remember my work or my name. I was a very small business owner, but my reputation had preceded me.
Like many artists, our reputations are built on our professionalism and final product. If our work impresses people, we get hired again. Our work is primarily spread through word of mouth. As with a work ethic, we can't fake a skill. That is why I've never lied on a resumé or misrepresented my work. People pay attention, make inquiries, and talk to colleagues about past experiences on various projects. We cannot succeed or get hired if we leave a legacy of disastrous results.
As I left the Minnesota Masonic Heritage Center after my husband's concert, I was horrified that this botched "restoration" might be associated with me.
To be continued…