Part 204: Thomas G. Moses' sketching Trip in 1885, Piedmont, West Virginia 
Tom Moses' Trips – West Virginia, 1885 (page 3, column 3 of the Palette & Chisel newsletter)
"We awoke and dressed early next morning; we were still in Ohio. The landscape was becoming quite rolling, which meant that we were fast approaching the Blue Ridge Mountain. The weather was cool and bracing and a little misty, which softened the brilliant autumn tints. After leaving Wheeling the grade became quite sharp and the road was very crooked. My breakfast did not settle well, which worried me a bit; Tryon declared I was car-sick; I have traveled too much to be affected that way. The track was not well ballasted.
We went through a number of tunnels and one, which was over a mile in length, was at a town called Tunneltown. We were now in West Virginia, on the Cheat River. The color was wonderful; the extreme blue of the distant mountains gave the whole landscape a most brilliant opalescent effect. Tryon was simply wild with joy, jumping from one side of the car to the other and calling me "There look a that: isn't it wonderful! Aren't you glad that you came? Did you ever see such color"? We both felt like jumping off; at every turn we could see a picture. As we neared Piedmont, West Virginia, the scenery became wilder and more colorful.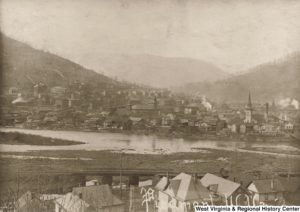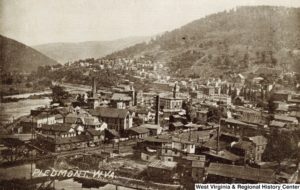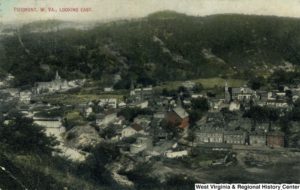 We arrived there at 11:00 A. M. and found something of a hotel with the Post Office and General Store in front of it, which seemed to be the general loafing-place for the whole town. We made several pencil sketches and two watercolors. As it was Sunday we found plenty of inquisitive people. Everything looked good to us – very wild, lots of granite boulders and all kinds of trees, full of color.
At this time, Tryon was very much in love with a schoolteacher in Haverhill, Massachusetts, whose name was Hattie. He promised to write her every day and she had promised to reciprocate. So we spent the evening writing letters to our dear ones.
Early in the morning, before we reached Piedmont, I noticed a large and very distinguished-looking gentleman pass through our car several times. He seemed to be very interested in our traps, easels, sketching umbrellas and stools which we had to carry. He inquired of the Pullman conductor who we were, and was informed that we were artists looking for some wild country to paint. He told the conductor to advise us to go up to Davis, on the West Maryland road, which he did. The gentleman was Stephen B. Elkins, U. S. Senator. His father-in-law was H. G. Davis, who lived at Deer Park, where they left the train.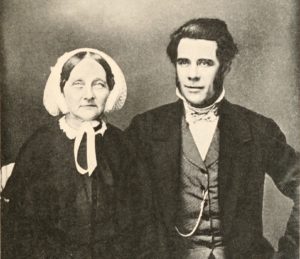 We were also instructed to see Mr. Harrison, Superintendent of the West Maryland road, in Piedmont, for transportation. This we did on Monday morning, and we furnished passes to Davis.
The train did not leave until 2:00 P. M. We were agreeably surprised to see Mr. Elkins, Mr. Davis and two boys get on the train, having come down from Deer Park on an early train. Mr Elkins soon introduced himself and the other members of his party. They were not only interested in the road but in the vast coalmines all along the road. As we started to climb the mountains, the Blue Ridge, every half mile revealed to us new beauties of this wonderful mountain country; here was indeed a virgin forest.
We arrived in Davis about five o'clock. The first thing we saw at the depot to remind us that we were in a wild country were six good-sized deer, dressed for shipment. They were piled on a truck and a number of eastern hunters, with dozens of deer-hounds, were strolling about, enjoying the wild life. The log hotel was certainly very picturesque and nicely situated on the banks of the Blackwater River, a branch of the Cheat River. It was pretty well filled, but Mr. Elkins requested the landlord to take good care of us, which he did.
While we were waiting for our dinner, and were all seated on the big porch, Tryon was seized with stomach cramps. Mr. Elkins noticed Tryon's groaning and said, "Mr. Tryon, if you will go up to Room 3 you will find a black grip; open it and right on top you will find a cure for stomach trouble." Tryon did this and came down feeling better, thanked Mr. Elkins, and within fifteen minutes had another cramp. Mr. Elkins said, "Go after it again, Tryon," and he did. This time he must have taken a good long one, for it seemed to settle him.
We certainly did full justice to our dinner. We had plenty of fresh venison steak, thanks to our hunters, and after dinner we gathered in the big living-room, or smoking-room as it was soon made by the dozen or more cigars and pipes. As the hunters were for the most part from New York, one can readily imagine the big yarns that were told, but we enjoyed them."
To be continued…
Historical note: The town of Piedmont started as a handful of frame houses, but H. G. Davis saw an opportunity in the area's coal and timber resources. In the early 1850s, Davis took a promotion as station agent for the new Piedmont station on the B&O line and lived in a boxcar for his first year until he built a house and sent for his wife. Davis partnered with his brother Thomas B. Davis in a general store that would perform full-scale merchandising, shipping and supplying the B&O with coal, oil and lumber.
Lumber became huge business; demand soared for wooden railroad ties to complement iron and steel rails across the country. H.G. Davis & Co. grew quickly, so much that Davis was able to leave the railroad and devote himself fully to the new family enterprise. Information from: http://www.huntington150years.com/the-story-of-huntingtons-roots/