Part 99: The Installation
I have completely disassembled two complete Scottish Rite scenery installations by Sosman & Landis during the early twentieth century.  This process gave me a sense of how much stage equipment and hardware was shipped to each Scottish Rite Valley. Seeing the buckets of hardware and stacks of wooden battens at the end of each project gave me an appreciation for the sheer volume of materials estimated when planning and ordering stage hardware for a scenery installation.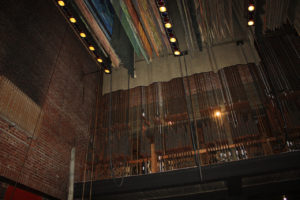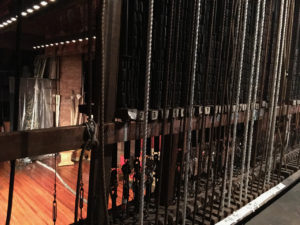 John C. Becker purchased their stage hardware from J. H. Channon Corporation, specialists in the manufacture and installation of steel curtains, counterweight rigging, and theatrical supplies for the Moline. The contact for Channon was N. C. Nussbaumer, the company's Vice President.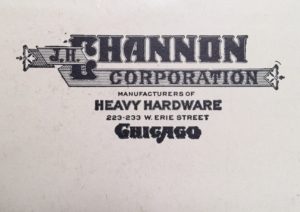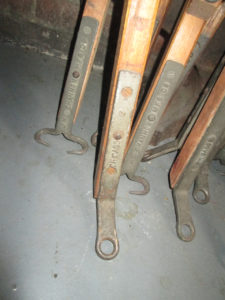 For Moline, Channon Corp. provided equipment for 100 sets of counterweight hanging, each with five line sets of cable.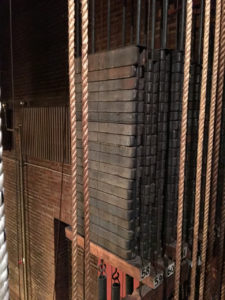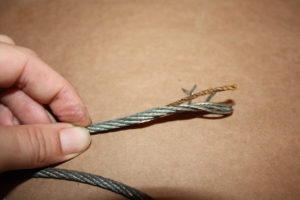 The necessary cable specified in the agreement would use 1/8" cable constructed of 7 strands (6 wires each) around a cotton core. For the sheave, Becker ordered two types of 5" groove sheaves and pins: regular and deep that would not need oiling. The system would also include head blocks of the same construction. Oak and iron arbor cages slid on malleable iron wire guides. Turnbuckles were included for tension. Eyebolts with wing nuts were added for later trimming. A tension spring was added to the system for weather conditions (slack lines).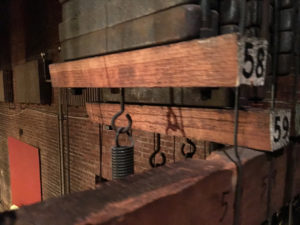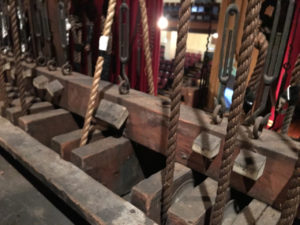 To fully appreciate the amount of stage hardware ordered from Channon for the Moline project, here are some of the supplies ordered to create one hundred line sets:
800 5" deep groove sheaves and pins
300 5" regular sheaves and pins
40,000 feet bright sash cord
10,800 feet 5/8" manila rope
12,000 feet 1/8" guide wire
200 ½" x 40" rods, nut & washer each end
700 5/16" H. & E. Turnbuckles
100 Springs
700 ¼" x 4" under eye nut eye bolts with wing nuts to have ¾" eye
Becker noted that each set would be properly balanced with gray iron weights provided by a local foundry. The Moline Foundry & Machine Co. produced the numerous seven-pound and twelve-pound weights for the Scottish Rite Cathedral stage's arbors.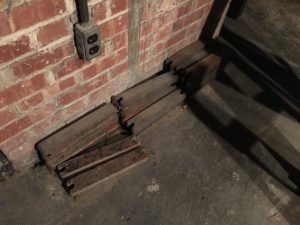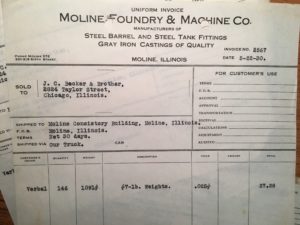 Channon would also supply the rigging for three sets of border lights and the front velour curtain. The agreement notes that the 30' x 37' Front Curtain that would "be of Marshall Field quality, heavy cotton backed with velour, sunfast."
Ray H. Becker led a crew of five men to install the scenery in Moline. We know this, as it was the companies practice to take out a life insurance policy for each member of the crew. These policies provide a glimpse at the Becker installation crew, detailing information about the backgrounds and physical characteristics of the crew.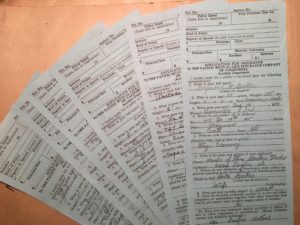 In 1930, Raymond H. Becker was 38 years old, born on August 13, 1891 in Booneville, Indiana. He was 6'-0" tall and 175 lbs., currently living in Maywood, Illinois. Ray was assisted by Wallace Lloyd Timmons (a 23 year old male from Chicago), Louis French (a 45 year old male from Davenport, Iowa), William Newman (a 40 year old from Davenport, Iowa), John Murphy (a 41 year old male from Davenport, Iowa) and two unnamed gentlemen. One was a 56-year-old man who was also from Davenport who also listed "stage work" as his profession. This crew had one 45 year-old local hire from Moline who lived on 9th Street. I was personally surprised by the age of the crew, expecting the majority of men to be slightly younger. The out-of-town crew stayed at Moline's Le Claire Hotel, a sizable building with "220 rooms with baths and 70 apartments" for approximately three weeks. Built in 1922, the hotel was a fifteen-story hotel that only competed in size with the height of the steeple of the First Lutheran Church. Becker had used the hotel stationary for his correspondence with the studio.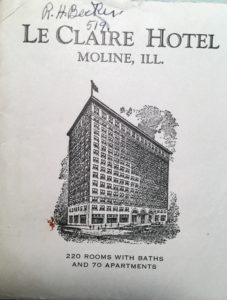 I thought back to 1912 when the western representative for M. C. Lilley explained the loss of their head carpenter in correspondence with the Valley of Austin. Although the carpenter remained unnamed, Brown noted that this individual was the sole person who specialized in the installation of counterweight systems for Scottish Rite scenery collections. I had to wonder when purchasing insurance policies for the installation crew became a standard policy for Becker & Bro. Was this a standard industry practice due to the anticipated danger?
Ray Becker's note accompanying the insurance policies also gave us a little more information about the timeframe for the Moline installation. On May 7, 1930, Ray Becker had mailed the insurance policies with the explanation that he would only have that particular crew for another week.
To be continued…