Part 124: Memories of Malmsha
When Malmsha passed away, scenic artists from across the country bemoaned the loss of his painting skills for the stage. Although he died in Chicago, the New York Times on 21 October, 1882 (page 4) published comments by a fellow artist, "Mr. David A. Strong, scenic artist at Haverly's theatre, says that Mr. Malmsha, as a scenic artist, had no superiors and only two equals in the country – Marston and Roberts." Remember, Strong was credited by Moses as the "Daddy" of Masonic stage design in his typed memoirs (see previous installment #65). He was a well-recognized artist himself and one of the original artists for the 1866 production of "The Black Crook" at Niblo's Garden. The two artists that Moses credits Malmsha as the only two equals are Richard Marston (1842-1917) of New York and David Roberts (1796-1864), the famous English artist and scene painter.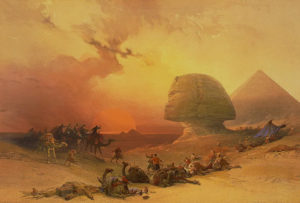 Henry C. Tryon also wrote a tribute to Malmsha that appeared in the Salt Lake City Herald on October 22, 1882. Tryon was born in Chicago in 1847.  At the age of seventeen, he enlisted in the army in a regiment attached to the Second Army Corps, Army of the Potomac, serving until the close of the Civil War. He later became a student at the Pennsylvania Academy of Design, intending to become a landscape painter and was a pupil of Thomas Moran and William Hart. Tryon work with Malmsha at Wood's Theatre in Cincinnati and later at McVicker's Theatre in Chicago.
The title of Tryon's article was "Louis Malmsha. A Tribute to the Great Scenic Artist." Here is the article in its entirety:
"Editors Herald: Malmsha scenic artist of McVickers Theatre, Chicago, reputed the best in his profession, died last night. The above appears in the Associated Press reports in the morning papers.
As an humble follower, ardent admirer, friend, and confrere of this dead artist I felt it my duty to render tribute and homage to his transcendent genius. He was "the best in the profession." Every artist who has seen his work has without qualification given him this position as a matter of simple fact. I have seen samples from the hands of the best scenic artists in England, France, and Italy, and from what I have seen and learned. I am convinced that Mr. Malmsha was the greatest scenic painter in the world. His identity appeared to be unbounded. The most familiar with his work could not guess how he would paint next. Week after week and year after year his productions were a constant succession of surprises. He was entirely an artist, and used none but purely art means to accomplish even a mechanical object. His compositions (the motive of which was ever noble and elevated) were entirely original, and were produced with astonishing rapidity. He united power and strength with the sweetest, tenderest delicacy, dignity with grace, sublimity with loveliness. I have yet to see in American any art example which manifest the wealth of genius that this man proved that he possessed. I am quite certain that had he turned his attention to the painting of pictures, that he would have ranked as the greatest artist that our country has ever produced, for his genius was certainly preeminent. His position in his profession was an isolated one. He had no peers. His place, vacant now, there is none can fill. We have great artists among our scene painters, but no Malmsha; just as there was but one Charlotte Cushman among many great actors.
Mr. Louis Malmsha commenced his career as a scenic artist at Crosby's opera house, Chicago, in 1865. He was then a mere boy, and while working in the auditorium under the employ of a fresco painter, he saw the scenic artist painting the scenery for the stage. He became so infatuated with this (to him) new art, that he could not be kept at his work, spending all of his time from his employers. From this time forth fresco painting was distasteful to him, and he accompanied the artist to New York. He there improved his advantages to such a degree that in a few years he was the peer of the best of his brother artists.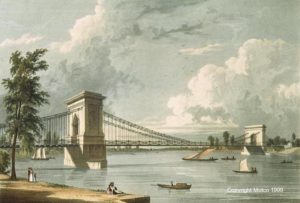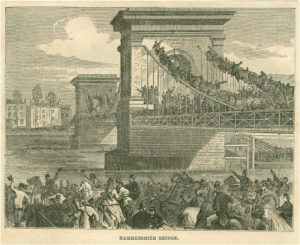 He returned to Crosby's Opera House about the year 1869, producing "Hammersmith Bridge" and an English boat race at Putney. This scene astonished Chicago –(no easy matter) as it was the finest of the kind that had ever been painted there. He remained at Crosby's for several months, until engaged by Mr. McVicker to paint the entire stock of his rebuilt theatre. (It was by the study of his beautiful work at this time that I drew my own first impressions of the possibilities of scenic art.) He remained at Mr. McVicker's until the destruction of the theatre by the great fire in 1871.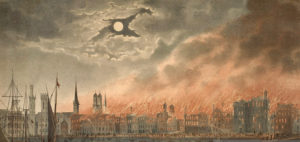 The following fall and winter he was engaged at Woods' theatre, Cincinnati, returning the next summer to Chicago to paint scenery for Aiken's Theatre and for Myers' Opera House.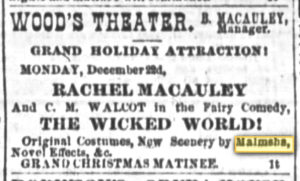 His drop curtain at Aiken's Theatre (Dearborn Theatre) was undoubtedly the finest and most artistic of any in the country. He then left Chicago for a year or more returning to McVicker's theatre where he remained until the time of his death.
Such is the brief career of this brilliant young man. He was (I judge about) 37 years of age. For the past ten or twelve years he had been afflicted with consumption so that it was difficult for him to exert himself violently or to do more that two or three hours a day, but as he was for the past few months required to do none but purely artwork, other artists doing all of the preliminary work possible to make his labor easier, he was enabled, no doubt up to a recent period to astonish and delight the audiences at McVicker's with the exhibition of phenomenal genius. He will be sadly missed in Chicago, and now that he is dead the general public will join the artists in appreciating as he deserved to have been appreciated during his life."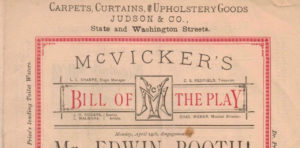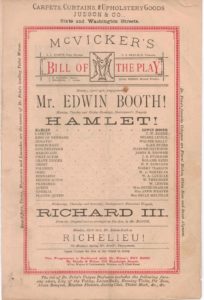 To be continued…