Part 217: Thomas G. Moses Leaves Sosman & Landis Studio
In 1887, Moses wrote, "My discontent with studio work got the upper hand and I quit on February 11, and joined Burridge, Moses and Louderback."
Burridge, Moses, & Louderback was short-lived and lasted until 1888. During that time it provided Moses with a wonderful opportunity to be associated with two other individuals who were well-respected in the fine art world. The company focused on stage production work and had their office and several frames in the Chamber of Commerce building in Chicago. Their main studios were at the Columbia Theatre and Grand Opera House.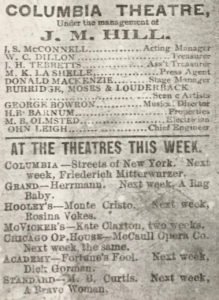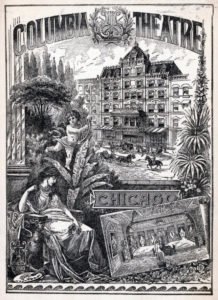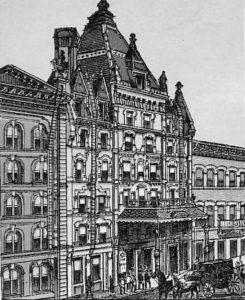 Previously known as Haverly's Theatre, the Columbia's stage was 70 by 54 feet. Advertisements listed Louderback as the business manager. He was well-respected owner of an auction house with fine art galleries, carrying a variety of high-end fine products in the Chicago area. It was Louderback & Co. that had previously hosted the first Scene Painters' Show in 1885 at 215 Wabasha Avenue.
Burridge was a year younger than Moses, born in 1857. He initially trained with Harley Merry at his Brooklyn Studio during the early 1870s. By 1876 he worked with Phil Goatcher for the Philadelphia Centennial World Fair, painting the "Seige of Paris." He would later paint a the "Battle of Gettysburg" panorama. After working in Philadelphia, he returned to New York and painted at the Bijou and Fourteenth Street theatres. Then he headed for Chicago where work was plentiful and his skills were in demand. From 1882-1885 Burridge worked with John A. Havlin at Chicago's Grand Theatre. He was also listed as the scenic artist for the Standard Theatre before partnering with Moses and Louderback. Burridge's skill and connections would have been an asset to the newly formed studio.
The work of Burridge, Moses & Louderback during 1887-1888 included "Gypsy Baron" for the Conried and Hermann Opera Company, 2 panoramas for Joe Murphy for "Donah," and 2 complete productions of "Kerry Gow." They also stocked the Grand Opera House in Columbus, Ohio and Foster's Opera House in Des Moines, Iowa. They also worked in New York City and Moses noted that they produced scenery for the Duff Company's production of "Dorothea" at the Standard Theatre. Moses wrote, "This was a great experience for me, for the production came out fine. The 1st Act was a scene in County Kent, England – grain fields and fine rolling country. Stage right a lot of hop vines on poles. Left, a wayside inn. All very sunny, but inclined to be grey. At rehearsal, on came the Inn Kepper with a pair of the brightest scarlet satin knickerbockers. What a yell Burridge gave out. They killed the whole set. Burridge insisted on a change of color, which was done. " During this same time, Burridge, Moses & Louderback stocked six city theatres with all of the necessary scenery. Of this busy period, Moses wrote, "We worked day and night."
On November 20, 1888, Burridge pulled out of business because he and Louderback couldn't agree on the running of their company. Louderback came from a "managing art" background while Burridge came from a "creating art" background. Moses was caught in the middle. As Burridge's replacement, Howard Tuttle was brought on board. He joined Moses and his assistant (Ralph Terwilliger) at their loft studio on Lake Street. Tuttle would remain with Moses for the next few years, traveling to Riverside, CA, San Francisco, CA, Evansville, IN and Corvallis, OR. He would later be responsible for scenery at the Davidson (Milwaukee, WI), the La Crosse Theatre (La Crosse, Wisconsin), Grand Opera House (Oshkosh, WI), Illinois Theatre (Rock Island, IL), Calumet Theatre (Calumet, MI), and Stone's Theatre (Flint, MI).
Without Burridge, however, Moses' business venture was not nearly as successful. Moses wrote, "I would have been better off had I remained at Sosman and Landis', as my share of salary only amounted to $42.00 per week. Not very much of a hustler. While I was not pleased, I was anxious to keep on."
To be continued…