Part 223: Thomas G. Moses and John Cort
Thomas G. Moses and Ed Loitz all enjoyed the town of Tacoma and their work, yet hoped to return home and work on other projects near their families. Before leaving the area, Moses made a side trip to Seattle and closed a deal with John Cort (ca. 1861– November 17, 1929). The scenery work would be later done at the studios in Chicago and shipped to Cort in Seattle.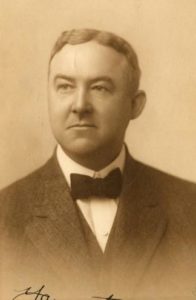 Born in New York, Cort started his career as part of a comedy duo called "Cort and Murphy." He ten managed a theatre in Cairo, Illinois, before heading west to Seattle, Washington. In Seattle, he managed the Standard Theater. This venue was considered a "box house," or a cross between a saloon and variety theater. His theatre became one of Seattle's leading establishments and was considered on of the pioneers for theater circuits. This meant that Cort booked the same act successively into multiple cities. This made it worthwhile for an acting company or any performance troupe to tour to remote locations.
The "Cort Circuit" was one of the first national theater circuits and at one time. Cort was so successful that by 1888 he built a new 800-seat theatre on the southeast corner of Occidental and Washington streets in Seattle. It was the second theatre that Cort opened in Seattle. The first Standard Theatre was located on Second Street between South Main and South Washington Street.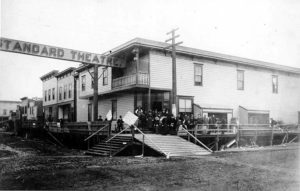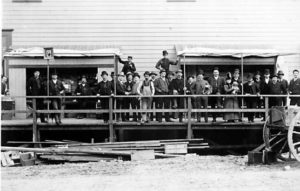 Unlike the old Standard Theater, his new building had electric Edison lighting, as well as steam hear and electric service bells. The structure was a wood frame building with a corner entrance.
It was Seattle's first theater with electric lighting. Unfortunately, his theatre burned to the ground in the Great Seattle fire of 1889. This June 6 fire burned nearly all of Seatlle's entertainment venues. Cort reopened a performance venue two weeks later in a tent to continue his business and provide a place for booked productions. By November he had erected a replacement for the Standard Theatre. This was the new theatre that Moses had contracted to paint scenery for while on the job at the Tacoma Theatre. He was in the right place at the right time.
Cort later left Seattle during the depression that followed the Panic of 1893 when much anti-vice legislation was put into place. However, he returned after the Klondike Gold Rush to build the Grand Opera House on Cherry Street.
By 1903, Cort's circuit controlled 37 theaters throughout the American West. This allowed him to compete with some success against the Eastern entertainment establishment. He even signed an agreement with Marcus Klaw and Abraham Erlanger who were leading booking agents and Cort's theatres became part of the Klaw and Erlanger Circuit.
However, Klaw and Erlanger's power continued to spread, negatively impacting many other theatre circuit owners such as that ran by Cort. By 1910, Cort helped organize the Independent National Theatre Owner's Association. This was a group of circuits that attempted a break with the New York-based theatre syndicates, such as Klaw and Erlanger. They allied with the independent Shubert Organization and eventually forced many theatre that were controlled by eastern syndicates to book other productions. In retaliation for Cort's participation with this movement, Klaw and Erlanger backed the construction of Seattle's Metropolitan Theatre. In turn, Cort headed to New York where he became a notable producer and manager, founding the Cort Theatre, The Cort Theatre is still located at 138 West Broadway between Sixth and seventh avenues in the theatre district of downtown Manhattan. It still remains a fixture of Broadway and was designated a New York City landmark on November 17, 1987.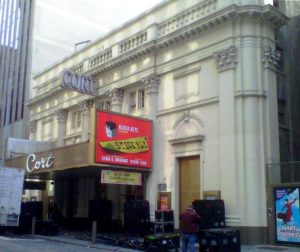 Interestingly, Cort was a founder for the Fraternal Order of Eagles (F.O.E.).
To be continued…
Here is a great link for Seattle's Theatre History: http://www.seattletheatrehistory.org/