Part 290: The Final Game – Grace Wishaar, Chess, and Alexander Alekhine
Grace Wishaar's interest in chess as a recreation after a day spent scene painting is first mentioned in 1904. The San Francisco Call reported, "To complete the versatility of this remarkable young woman, she is an excellent musician and a clever chess player. When her eyes grow weary of color and the brush becomes a heavy weight she turns to chess for recreation" (October 13, 1904, page 6). Four decades later, Wishaar would become the Ladies Champion of the World Chess exhibition in Paris. She was sixty-eight years old, the same age as Thomas G. Moses when he painted the entire Fort Scott scenery collection.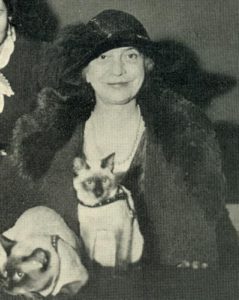 Wishaar's sixth husband was chess champion- Alexander Alekhine (1892-1946). Sixteen years her junior, Alekhine was born in Moscow. He grew up in an aristocratic and very wealthy family, learning to play chess at the age of six. He first encountered simultaneous blindfold chess games when he was nine years old and became enthralled with a visiting champion who competed in twenty-two games. Alekhine would eventually become one of the greatest blindfold players in history. He joined the Moscow Chess Club and won the All-Russian Amateur Tournament by 1909.In 1914 he emerged on the worldwide state, being one of the top five.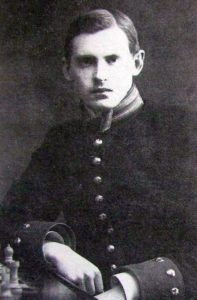 That same year, Alekhine was retained in Germany with ten other Russian chess players when war erupted. Fortunately, he escaped and returned to Russia. After the war, he began to travel again and compete all over the world, landing on US soil during 1923-1924. While in the states he participated in 24 exhibitions, even competing in one blindfold simultaneous game against twenty-one other players. Ten years later, he met Grace Wishaar in Tokyo.
Wishaar was also competing in a chess tournament. During the event, she played against Alexander Alekhine in a simultaneous exhibition. For her participation, she received one of Alekhine's books and asked him to autograph her copy. Although sixteen years older than Alekhine, he was captivated with Wishaar and they married the following year. On March 26, 1934, their wedding ceremony took place at Villefranche-sur-Mer in France. This is about 6 miles southwest of Monaco. They lived in a magnificent chateau (La Chatellenie Saint-Aubin-le-Cauf was near Normandy), Wishaar maintained her art studio in Paris, and they traveled extensively for chess championships around the world.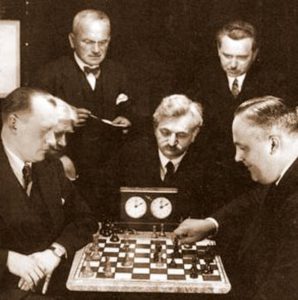 Both competed at the Hastings International Chess Congress in 1936/37 where Alekhine won the Premier. He won this same tournament in previous years (1922, 1925/6, 1933/4). Wishaar won 3rd prize in the 3rd Class Morning A class competition. By 1938, a civic reception was held in their honor at the Golden Jubilee Chess Congress in Plymouth.
Life wasn't without challenges or struggles, however, as reports continued to depict Alekhine's excessive drinking during competitions. Yet he continued to win, game after game, and excelled in blindfold simultaneous chess challenges.
During World War II, the Nazis took over their chateau and looted its contents. Alekhine was allowed to freely travel under Nazi occupation, but no exit visa was allowed for Wishaar. After the war, Wishaar sold the chateau and spent the last five years of her life in her Paris studio. She passed away on February 21, 1956 and is buried next to Alexander in the Cimetière du Montparnasse in Paris.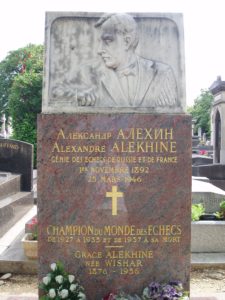 Unbelievably, after the numerous years of solely receiving recognition under her maiden name, it is actually misspelled on her grave. The majority of information about Wishaar is linked to life with her sixth and last husband.
For more information about Alexander Alekhine, see Pablo Moran's book, "A. Alekhine, Agony of a Chess Genius." The book examines the tragic last years of world chess champion Alexander Alekhine (1892-1946), 45 of his match and tournament games in Spain and Portugal from 1943 to 1946, and 100 other late exhibition games are covered. Here is the link if you are interested in purchasing it (I did): https://www.amazon.com/A-Alekhine-Agony-Chess-…/…/0786459816. There is also a blog on his life and chess tactics by M. Silman. For those interested in Alekhine's strategies and rise as a world champion, there is an amazing blog. It covers his life and techniques in seven parts. Here is the link to part 1: https://www.chess.com/…/alexander-alekhine-pt-1-and-the-gam…
To be continued…