Part 336: The Broad Ripple Auditorium in Indianapolis, Indiana 
Thomas G. Moses painted scenery for the Broad Ripple Auditorium in 1895. He also made a brief appearance as part of a theatrical management team– Moses & McDonald. This was shortly after Joseph S. Sosman, Abraham "Perry" Landis, and David Hunt started the theatrical management firm of Sosman, Landis & Hunt. A combination of touring vaudeville acts and creating a stock company eliminated the need to feature expensive touring stars. It appeared to be a winning proposition.
When the Broad Ripple Auditorium opened during August 1895, it was at an odd time. The Indianapolis News announced, "This cozy summer theater, although opened late in the season, is doing good business. The attendance is increasing nightly, which is the surest indication of success" (11 August 1895, page 10). It was marketed as being "complete with all the modern equipment" and a seating capacity of 1,200 (4 Aug. 1895, page 13). The newspaper article added that Moses & McDonald were not only the managers, but also the organizers of the the Auditorium Stock Company. The company presented standard dramas, supplemented with vaudeville acts. It was the Auditorium Stock Company that purchased the theater, funded by members that included R.C. Light, George J. Marott, Charles Kirschner, and a Mr. Eldridge.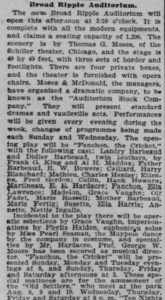 Moses was also credited with the stock scenery collection and the Indianapolis New commented, "The scenery is by Thomas G. Moses, of the Schiller Theatre, Chicago, and the stage is 40×40 feet, with three sets of border and footlights" (4 Aug. 1895, page 13).
The opening play was "Fanchon, the Cricket," a charming five-act play made famous by Maggie Mitchell. This show was followed by "The Smugglers," "Mystic Mountain," "Ten Nights in a Barroom," "The Factory Girl," and "Kathleen Mavourneen," each attracting large crowds. Then something happened.
Just eleven days after opening, the Indianapolis News reported, "The Broad Ripple Auditorium will remain closed until next Saturday night, when 'Uncle Tom's Cabin' will be presented. Preparations are making for an elaborate production" (13 August 1895, page 7). There is no other mention of the show. It appears as if the production never took place at the Broad Ripple Auditorium. The next production for the venue was "Mabel Heath, or the Shadows of Home." That was their last advertised performance. After that, the venue under the management of Moses & McDonald disappeared from the local papers.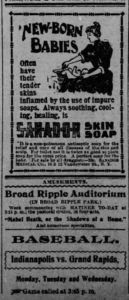 Unfortunately, the Broad Ripple Auditorium productions were poorly advertised; they appeared few in number, small in scale, and uninspiring in content. This would be understandable if the majority of Moses time was spent creating scenery for other venues. Little is known of "Moses & McDonald" beyond their brief partnership to manage the Broad Ripple Auditorium.
I had to wonder what had happened. Did this have anything to do with an inexperienced management team? There are only a couple mentions of them in newspaper articles, but all suggest that Thomas G. Moses was the "Moses" of Moses & McDonald.
Who was McDonald? I believe that he was another scenic artist that Moses was working with in Chicago during 1895?. This was a perfect combination as McDonald was not only a scenic artist, but also a talented stage carpenter. Where was McDonald painting during the spring of 1895? He was painting at McVicker's Theatre with Homer Emons and Edward Peck. They were all working on the production of "Linsey Woolsey" (Chicago Tribune, 7 April 1895, page 35).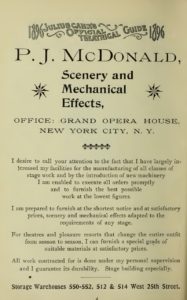 In 1896, P. J. McDonald was back to working as the stage carpenter for the Grand Opera House in New York. That would explain the end of Moses & McDonald. He would later partner with Claude L. Hagen, another stage carpenter, in 1899. McDonald & Hagen advertised as "contractors and builders of scenery," providing scenery for "scenic productions, scenery for Theatres, Balls and Private Theatricals, Pageants and Celebrations, Tricks and Illusions, Masonic and Mystic Shrine Paraphernalia, Mechanical Effects, and Scrim Profile and all Supplies for the Trade" (Julius Cahn's Official Theatrical Guide, 1899). The two separated by 1902 and McDonald again advertised independently as "P. J. McDonald, Scenery and Stage Construction, Mechanical Effects and Intricate Devices." His shop was located at the stage of the Grand Opera House – 320 West 24th Street, New York.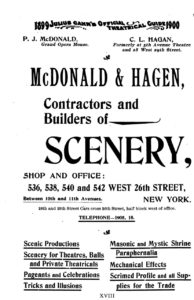 There is much that can be written on Hagen, and I cover him in a later post. For now, here is an announcement from "The Salt Lake Tribune" in 1910 (20 Feb, page 39). It gives a brief summary of Hagen's importance.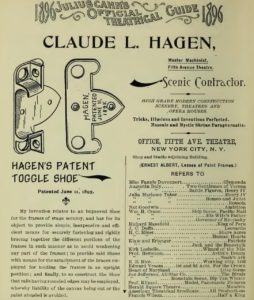 "For eight years Mr. Hagen was associated with Klaw & Erlanger. Later he was superintendent of Luna park. He invented the racing scenes in "Ben-Hur," "The Ninety and Nine," "The Vanderbilt Cup," and "Bedford's Hope." He designed and built many of the illusions used by Herrmann. He also invented the "Loop-the-Loop" and designed the first hippodrome building in this country in which the racecourse or stage revolved entirely around the audience. The latter device was first used at Luna park in the naval show "War is Hell." In 1908, he was appointed the technical director of the New Theatre, submitting his resignation on May 1, 1910. At the New Theatre "he set up the most complete theatrical stage in existence, and all the machinery of it was invented by him. His revolving stage and system of counterweights for the raising and lowering of scenery are said to be the most effective devices of the kind known."
To be continued…